How to choose this product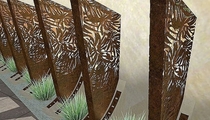 A contemporary bollard light may express some individuality through its form, construction, color or materials. The light is normally embedded into the side or top of a vertical post. On ArchiExpo, these items are arranged by properties such as type of light source or material.
Applications
Such lighting is more subtle than conventional street lamps, while adding a sense of style to its environment. It is found in outdoor private, public and commercial spaces (e.g., boulevards, parks, driveways). It also may serve to separate different spaces, such as pedestrian areas and roads.
Technologies
Bollard lights may be connected to the local electric grid or be solar powered. They may be made from different materials with interesting finishes, including brushed stainless steel and natural stone.
How to choose
Consider the size of the space to be lit, the number of lights required and installation method. Ambiance is another factor. The lighting can be direct, reflected off a surface or shine through perforations to produce interesting effects. Output and energy efficiency also should be taken into account. For example, LED lights offer lower consumption, higher output and less maintenance than fluorescent bulbs.

Since bollard lights usually sit low to the ground, it may be necessary to include anti-vandalism features or safety guards.