How to choose this product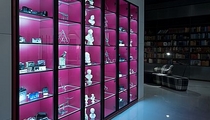 A contemporary bookcase is of modern, practical design. Dimensions and internal organization favor utility. ArchiExpo classes these items by material and other features, for example modular or wheeled units.
Applications
This furniture is found in homes, offices, reading rooms, studies and other locales.
Technologies
These bookcases are usually made of wood (pine, walnut, mahogany, oak, cherry, cedar), aluminum and glass. However, certified wood, plywood, steel, recycled and other materials also can be used.
How to choose
Choice will depend on user needs, number of books to be stored, bookcase dimensions and available space. Large-format books require higher, deeper compartments. Shelves should be at least 20 centimeters off the floor and no more than two meters high, to avoid the need for a ladder.