How to choose this product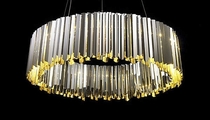 A contemporary chandelier may be inspired by traditional or other chandeliers, but expresses originality through its use of color, materials or shape. For example, it could have several arms holding candle shaped bulbs. It may be made of Plexiglas rather than glass or crystal.
Applications
The wide range of shapes and materials make these fixtures suitable for many different spaces. Although they are often used to create a luxurious and accommodating atmosphere, many contemporary models are modest in size, adding intimacy or originality to a room. Minimalist versions may consist of light bulbs hung from various wires at different heights.
Technologies
Unusual materials used for contemporary chandeliers include fiber optics, acrylic and chrome.
How to choose
Chandelier style can be chosen to create a particular ambiance, and to complement or contrast with nearby furniture. Verify that the ceiling is strong enough to support the weight. Ease of maintenance will be affected by the shape, complexity, materials and size of the chandelier.

Ensure that it does not overpower surrounding furniture. Be sure to leave enough distance between the bottom of the chandelier and the furniture below. The diameter of the chandelier should not exceed the depth or width of the furniture beneath it.