How to choose this product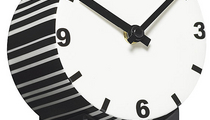 A contemporary clock uses color, graphics or materials in original ways, but also may reprise traditional or classic clock designs. It may be digital or analog, wall-mounted, tabletop or freestanding. On ArchiExpo, these pieces are arranged by properties such as display or installation type.
Applications
As well as telling the time, such clocks may offer an alarm function, radio, thermometer, storage or even ambient lighting. It may be considered attractive or decorative in its own right.
Technologies
Steel, glass, plastic, wood and other materials are used to make these clocks.
How to choose
Consider whether the clock's form or function is more important. A wall-mounted model can be chosen to be a focal point or to blend in with its surroundings. Decide between digital and analog display. While the former often can be read at a glance and have extra features, the latter have a less industrial look and sometimes are considered more attractive.