How to choose this product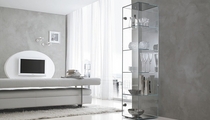 A contemporary display case may be used for displaying consumables, products, household objects or even information. It may express some originality through its materiality, form or construction, whilst keeping some design aspects of traditional or period design display cases.

On ArchiExpo, a contemporary display case may be arranged by type (e.g corner) or material.
Applications
As well as being used for displaying items, some display cases may also have opaque compartments for storing other items. Some may be mobile or fixed, high level or low level, completely or partially transparent.
How to choose
When choosing a contemporary display case consider how the style of the display fits with the decor in the space. Whilst wooden glazed display cases may add warmth to a space, complete glass designs may blend into a number of different style spaces and allow items to be displayed from all angles.

Ensure that the type of glass is suitable, ensuring to meet safety and fire regulations. Consider how much maintenance is required, and how robust the display case is against shock or impact. Consider whether features such as casters, locks or opaque compartments are required.