Contemporary fireplaces
97 companies | 1815 products
How to choose this product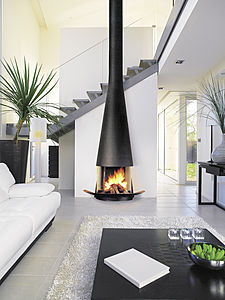 The contemporary fireplace is characterized by sober design, clean, simple lines and minimalist decoration, sometimes without a mantel. It usually has a smooth, shiny finish and muted colors, favoring grays, blacks and whites, to harmonize with room decor and accessories.
How to choose
Fireplace location and configuration (central, corner, built-in, two-sided, wall-mounted, suspended, etc.) will help determine the overall look and feel of the room. Mantel type depends on personal taste and home decor. It may be of aluminum, steel, wood or another material.

Colors can be muted to blend with surrounding elements or bright to provide a note of contrast. Choice of open or closed firebox and wood, gas, bioethanol, electricity or mixed fuel will determine the ambiance and heating efficiency of the fireplace.