How to choose this product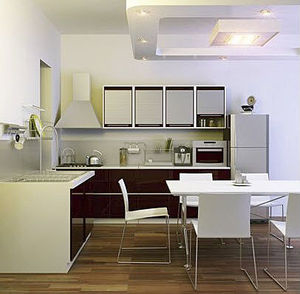 The contemporary kitchen often incorporates technological innovations, modern materials and clever organizational features. It has clean, simple, straight lines, especially evident in cabinet doors and drawers.
Technologies
Some contemporary kitchen cabinets are made of solid wood, including bamboo, ebony, oak, ash, beech and walnut. This provides a high-quality, durable, attractive natural finish. Wood veneer resembles solid wood and lasts for years. Other cabinets are of aluminum, stainless steel, fiberglass or Formica®.
How to choose
Choice will depend on available space, cabinet material, type of drawer pull, maintenance requirements, durability and overall configuration (e.g., with or without island)