The Online Architecture and Design Exhibition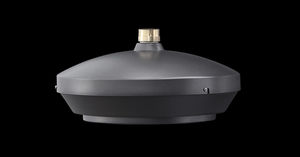 urban lamppost
ALKES-104 by Alfredo Farné
Alkes is a system developed to light suburban streets with prevalently road traffic. The posts have two different types of hi-tech light fixture. MATERIALS Posts and brackets are made in steel. Light fixtures are in steel and die-cast ...
See the other products
NERI

urban lamppost
CHALLENGE by Josef P. Kleihues
Street lamp Challenge The street lamp Challenge is part of a directional system that makes the city's historical centre and notable sights more accessible to tourists and residents. It can be combined with all other street furniture ...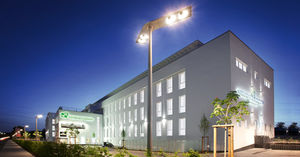 Prize-winning individualist One of the salient traits of individuals with a strong personality is that they cope skillfully with daily challenges and integrate themselves into their environment in a manner that is fully consistent ...
See the other products
RZB

urban lighting pole
PARK FLOWER
Pole top luminaires BODY: powder coated die-cast aluminum and extruded aluminum profile DIFFUSER: hardened glass or hardened glass with light diffusing foil POWER SUPPLY: integral electronic ballast 3xS TECHNOLOGY: save money, save ...
See the other products
ES-SYSTEM

urban lamppost
33500 , 33501
Range of LED luminaires in urban areas. Ideal for lighting of pedestrian paths, parks, residential areas. The products have been manufactured in accordance with current regulations, also referring to laws against light pollution. The ...

See the other products
Design espaces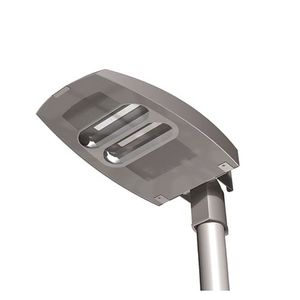 Aluminum, steel and glass: strength and complete recycling High-performance street lighting fixture with a double optic system for maximum lighting uniformity. Features geometrical designs that are very elegant as well as technically ...

Designing, structuring and orienting luminaires in public spaces. They highlight the location during the day and brighten it at night. Iconic blends these two functions of luminaire design and light design with charm and skilful transformation. ...
See the other products
Hoffmeister Leuchten GmbH

Ultra slim housing made of high grade Al with optimized heat conductivity properties.Powder coated in DB703 high protective color.Exchangeable LED engine with latest generation of high power LED light sources.Dedicated specially designed ...
See the other products
Geolux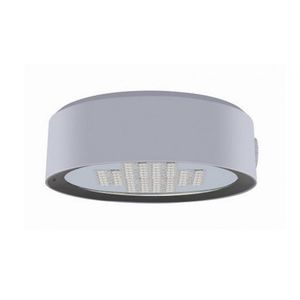 urban lamppost
MIZAR ISTANIUM
Minimalist design decorative LED luminaire with cylindrical shapes Installation recommended at heights from 4 to 10 m.
See the other products
Simon Lighting

Catalog Cristher Family VICO Type of Article Residencial Aplication Bollards Finishes Anthracite IP 66 IK 09 Class II Dimmable No
See the other products
Cristher

an autonomous smart energy platform powered by an omnidirectional wind turbine and high efficiency solar cells for advanced applications in IoT for urban or remote locations.

urban lamppost
E LUM 1 SERIES
The E LUM LED light is a high-tech street light with a modern, extremely thin, aerodynamic design. It integrates seamlessly into all public and private outdoor areas, as well as all road types. The E LUM LED is an ideal ...
See the other products
LUMENIA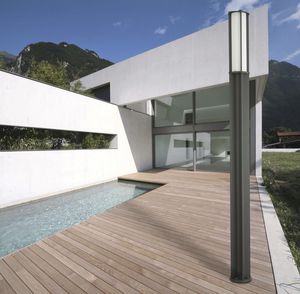 garden lamppost
CROSS-1 by Alex & Manel Lluscà
Modern street lamp made from aluminium die casting with a policarbonate opal diffuser. Designed by: Alex & Manel Lluscà. Light source1xPL 2G11 55W 5000K IncludedYes TransformerEquipment IncludedYes IP65 Voltage220-240V Operating ...

urban lamppost
IZAR SMALL
Versions: - Timeless: regenerable luminaire (replaceable driver) - Glassed // Glass-free​ Dimensions (arm with adjustable joint not included): l. 545 mm x w. 318 mm x h. 70 mm Weight (excluding the wiring): Glassed: ...
See the other products
Ghisamestieri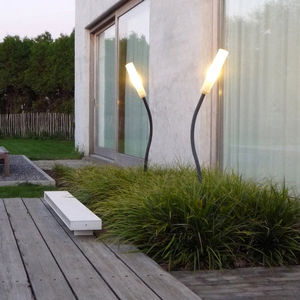 garden lamppost
FLOWER by Alain Monnens
available colors grey painted (T45F2FGL) white painted (T45F2FWL) black painted (T45F2FZL) lamp dulux longlife 18W Slim, playful, organic, frivolous: all terms which can perfectly be applied to this new and stylish outdoor lighting ...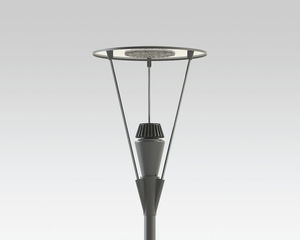 Decorative LED luminaire for post top mounting. Suitable for glare-free illumination of shopping streets, pedestrian precincts, parks and other landscapes. Ideal for the refurbishment of old luminaires due to compatible 76 mm spigot diameter.

Lantern made in die-cast aluminium Screen in transparent (T) or frosted (G) thermoformed PMMA methacrylate. Upright ¾ Gas joint. Screws and other fasteners in stainless steel. Dimensions: 325x325x605 mm. Electrical insulation ...
See the other products
m. lab

urban lamppost
ECODUT HQI/VSAP
Ecodut is an outdoor vial illumination system, with high pressure sodium lamp or metal halide lamp, ideal for the urban or street enviroment. 50w / 70w / 100w / 150w / 250w
See the other products
SECOM Iluminacion,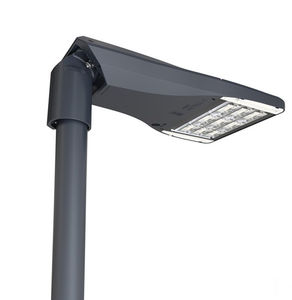 APPLICATION Street LED lighting luminaire MECHANICAL CHARACTERISTICS Support frame in die cast aluminium UNI EN1706 powder painted. Polyurethane seal. Closure screen in flat tempered glass, 4mm thickness. High transparency. ...
See the other products
AEC Illuminazione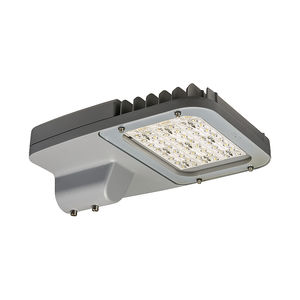 LED street luminaire has been developed to ensure maximum energy efficiency in combination with modern design. Body is made of die-casted aluminium and is available in all RAL colours. Applications: • streets, parks, ...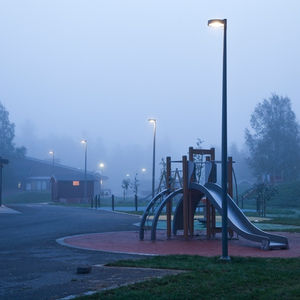 urban lamppost
BIANCA by Tommy Govén
Material: Luminaire housing in die-cast aluminium. Assembly: Mounted on dia. 60 mm stanchion/post with single or double arm, see accessories. NB, item numbers will differ according to on/off or DALI. Connection: Terminal block 5x2.5 ...
See the other products
ATELJE LYKTAN

Future is an energy-efficient luminaires requiring minimal maintenance. Even some maintenances can be done without tool for easily operation. With harmonious shape and aesthetic design enhances any landscape. Future offers many types ...
See the other products
Ningbo Intec Lighting Co., Ltd.

Equipment for urban street application for mast diameter 102mm. Made entirely of aluminum, housing street asymmetrical optics light pollution zone 1 cut-off. Available in versions with electronic and compensated electromechanical wiring.
See the other products
Arcluce S.p.A.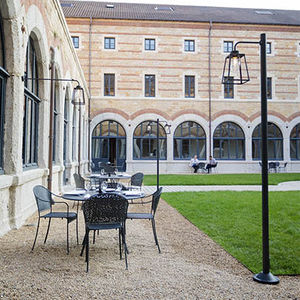 urban lamppost
LAMPIOK by Stéphane Joyeux
IP65 Class II E27 - 52W Clear or frosted glass Aluminium or brass
See the other products
Roger Pradier