How to choose this product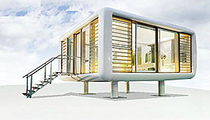 A contemporary micro-home is a small dwelling used as a pied-à-terre by businesspeople, students, vacationers and the like. It is prefabricated of wood, composites, metal or other materials. ArchiExpo offers a range of such such structures including ecological models.
Applications
These dwellings usually range from 12 to 35 square meters. They answer the needs of modern lifestyles characterized by constant movement.
Technologies
Such structures are factory-built of standardized elements, sometimes borrowing construction technologies and materials common in naval and aircraft manufacture.
How to choose
Choice of the most appropriate model will depend on the length and frequency of use, materials and configuration, and the architectural traditions and climate of the region where the home will be erected.
Advantages
- Optimized interior arrangements
- Rapid prefab installation
- Temporary or permanent residence
Disadvantages
- Restricted living space