How to choose this product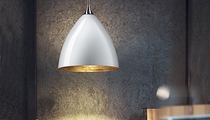 A contemporary pendant lamp is a decorative fixture that hangs from the ceiling. It is characterized by clean, functional, rectilinear configuration and neutral colors which go well with any decor, from traditional to avant-garde.
Applications
These lamps generally are used as primary illumination in main living and work spaces.
Technologies
Such fixtures usually use LED, fluorescent or halogen bulbs.
How to choose
Choice will depend on matching brightness and efficacy to the type of space and its lighting requirements. Personal preference will determine aesthetic qualities, including constituent materials.
Advantages
- Suitable for many decors