wall-mounted shelf
TO-DAY NOUVELLE

The Round Dorm will fit in any home and will give the wall an elegant, unique and delicate look. Use it for storage or all your favourite little things. It is made of beech and birch plywood, hangs in a leather string and comes with ...
See the other products
http://www.fermliving.com/

... high quality shelving system from ferm LIVING. The powder coated metal elements come in different heights and a beautiful range of soft colour hues. The basic structure is strong and robust with a clear reference ...
See the other products
http://www.fermliving.com/

wall-mounted shelf
LETTERING H

wall-mounted shelf
LETTERING O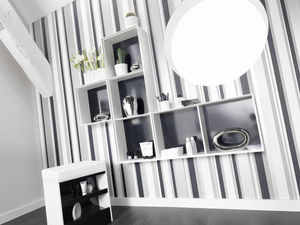 Worktop-basin and surround made from white Solid Surface.Drawers open without handles using the "push latch" system Height : 40 cm - Depth : 50 cm Width : from 70 to 140 cm

contemporary shelf
LUMBERJACK by Damien Gernay
Color: White/Black Components: : Solid beech wood steel

wall-mounted shelf
TUILES by Thomas Merlin
Small size Color : Natural wood Component : Beech wood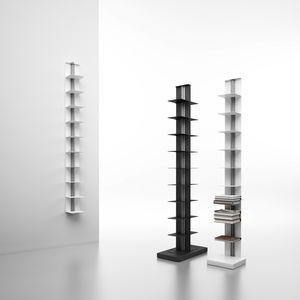 wall-mounted shelf
USIO by Stc Studio
USIO by STC Studio. Usio shelving collection stands out for its clean and elegant line in all versions, perfect for small spaces. Bookcase formed by an aluminium column with an anodized silver matt finish and painted ...

wall-mounted shelf
KOKU by Hugo Tejada
KOKU by Hugo Tejada. Original bookshelf designed to cover space and functionality requirements. Manufactured in steel sheet and has a simple wall mounting system.

Using reclaimed wood from Chinese Junk boats and coupling it with shiny steel, the Condo range has a very rustic contemporary feel. The wood undergoes a lengthy recovery process, where the natural beauty of the Sassafras ...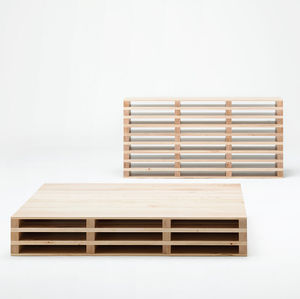 low shelf
PILE by Teruhiro Yanagihara
... pallets that can be stacked up to three units high. When laid out the module can be used as a low table. Stacked, PILE forms a shelving unit to store, for example documents, books or electrical appliances. SPECIFICATIONS ...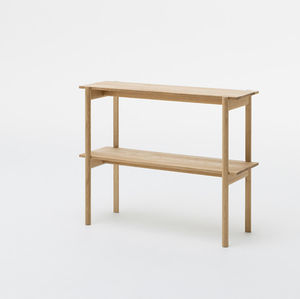 contemporary shelf
CASTOR by Big Game
... original sideboard in the living room. CASTOR SHELF can be extended and complemented with CASTOR BENCH, as it turns into a shelf as soon as it is aligned with CASTOR SHELF. The maximum ...

dimensions:80 x 32 x 191 cm quality:frame wild solid oak, , waxed, natural , with shelves , black plate , hindered and waxed

contemporary shelf
SCHNEEWITTCHEN
dimensions:75 x 55 x 210 cm quality:frame iron, lacquer-finished, black , glass with facet cut , with 4 glass shelves , with door (righthinged or left-hinged) , or without door Transparent purism: Schneewitchen. Its ...

Aleatory is a term borrowed from music. It refers to compositions which permit a free style of playing within an aesthetic programme. Just as with this range of living room furnishings: a grid structure with differing widths, heights ...

This shelving system embodies a dramatic contrast: loud and quiet. Strong supporting elements and delicate side walls, which can be arranged in an almost unlimited number of ways between the different levels.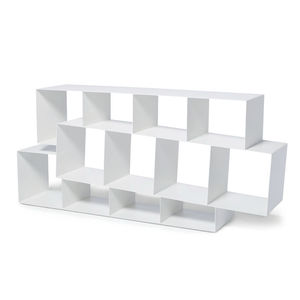 The bookcase is made up of three rectangular modules, identical in terms of proportion, broken down into square sections. The modules, stached in an intentionally unbalanced manner, create a zero gravity effect, especially when filled ...

contemporary shelf
SHELLY
Our teak items is all made of reclaimed teak wood from old houses and fisher boats, and will appear with reparations and fillings.

Modular storage, multifunctional, spacious furniture for offices and at home.

contemporary shelf
RADAR R13
Modular storage, multifunctional, spacious furniture for offices and at home.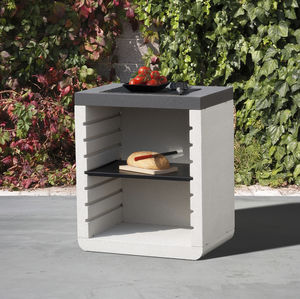 contemporary shelf
ONE SIDE
Side support surface module made of BIANCO CARRARA granulated marble, countertop of granulated marble GREY. Dimensioni: 70x49 h.83.5 Weight: 240 kg

wall-mounted shelf
DOWNTOWN by Roderick Vos
... even without content. Just like in architecture the owner determines the function: book tower, audio rack, mini bar, trophy shelf et cetera. If necessary Downtown is all at the same time. Squaring the circle The structure ...

AN UNUSUAL SHOW: STRAIGHT LINES TAKE ON A NEW LIFE THANKS TO THE VARIED THICKNESSES OF THE DOORS. THE WALL IS STRUCTURED AS A HARMONIOUS ALTERNATING SUCCESSION OF SLIGHT PROTRUSIONS AND RECESSES. TO THE UNDERLYING FUNCTIONALITY OF SHAPES ...

wall-mounted shelf
ONE CFR
See the other products
ACQUABELLA

... natural walnut finish or white lacquered gloss, and Box shelf has the versatility to any texture and color. The Box cabinet is ready to place a worktop or leave it as suspended or wheeled module. The shelf ...
See the other products
ACQUABELLA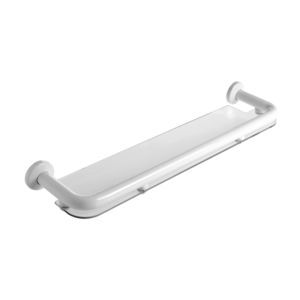 wall-mounted shelf
URBAN PEOPLE®: G27JQS01
Shelf made of glass with structure made of seamless zinc-plated steel pipe, coated with biocompatible and warm-to-the-touch vinyl
See the other products
PONTE GIULIO

wall-mounted shelf
TUBOCOLOR®: G01JQS37
Shelf made of plexiglass with structure made of seamless zinc-plated steel pipe, coated with biocompatible and warm-to-the-touch vinyl
See the other products
PONTE GIULIO

Sturdy construction made of steel tube 7 or 3 L supports for shelves Plateform and removable shelves in wood pannel 4 wheels, 2 fixed and 2 swivel