The Online Architecture and Design Exhibition

wall-mounted shelf
BAKETO: 5234+527
... W Baketo 5234+5278 | 23.3" L x 4.5" W Baketo 5234+5279 | 31.2" L x 4.5" W Features: Safety Glass Shelf Polished Chrome Finish Solid Brass Base Made by Lineabeta of Italy SKU# | Option: ...

wall-mounted shelf
GRIDY FUNGI: S/M/L by Gridy
Sometimes inspiration comes in the unlikeliest of places. The idea for these floating shelves came to Norwegian design duo Gridy when they spotted shelf fungus growing out of a tree. Use as bedside shelves, ...
See the other products
MENU

wall-mounted shelf
by Kenyon Yeh
Introducing the world's first… shelf/tray. At Menu we are obsessed with clever solutions for modern living and love the way Wall Tray uses wall space. Handily lifting off its wall mountings, it is ideal ...
See the other products
MENU

A cabinet inspired on the beautiful mechanism of an archetypal ironing board. The handcrafted brass elements emphasize the construction of this cabinet, made of elmswood.

ceramics | 46 x 26 x 6 cm | 2008 A ceramic shelve with all the details and feelings of a soft shelve made of textile, like a cushion. This shelve functions as an altar for ones most precious belongings.

wall-mounted shelf
TO-DAY NOUVELLE

The Round Dorm will fit in any home and will give the wall an elegant, unique and delicate look. Use it for storage or all your favourite little things. It is made of beech and birch plywood, hangs in a leather string and comes with ...

wall-mounted shelf
LETTERING H

wall-mounted shelf
LETTERING O

Worktop-basin and surround made from white Solid Surface.Drawers open without handles using the "push latch" system Height : 40 cm - Depth : 50 cm Width : from 70 to 140 cm

modular shelf
QUAKE by Antoine Phelouzat
Color : White / Black / White to grey gradient Component : Oak wood and metal
See the other products
ENO STUDIO

contemporary shelf
LUMBERJACK by Damien Gernay
Color: White/Black Components: : Solid beech wood steel
See the other products
ENO STUDIO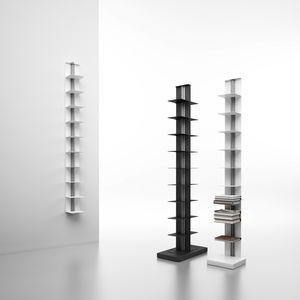 wall-mounted shelf
USIO by Stc Studio
USIO by STC Studio. Usio shelving collection stands out for its clean and elegant line in all versions, perfect for small spaces. Bookcase formed by an aluminium column with an anodized silver matt finish and painted steel shelves.

wall-mounted shelf
KOKU by Hugo Tejada
KOKU by Hugo Tejada. Original bookshelf designed to cover space and functionality requirements. Manufactured in steel sheet and has a simple wall mounting system.

Using reclaimed wood from Chinese Junk boats and coupling it with shiny steel, the Condo range has a very rustic contemporary feel. The wood undergoes a lengthy recovery process, where the natural beauty of the Sassafras ...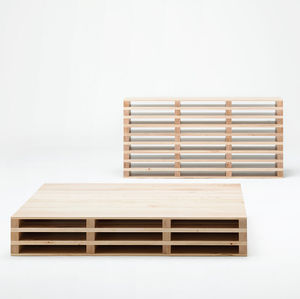 low shelf
PILE by Teruhiro Yanagihara
Modularity of Factory Pallets Pallets are portable platforms on which goods can be moved, stacked and stored with the help of a forklift. PILE was inspired by the industrial pallet's functionality and its basic modularity. Each unit consists ...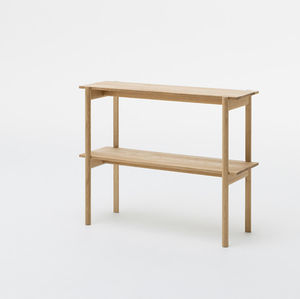 contemporary shelf
CASTOR by Big Game
... original sideboard in the living room. CASTOR SHELF can be extended and complemented with CASTOR BENCH, as it turns into a shelf as soon as it is aligned with CASTOR SHELF. The maximum ...

Aleatory is a term borrowed from music. It refers to compositions which permit a free style of playing within an aesthetic programme. Just as with this range of living room furnishings: a grid structure with differing widths, heights ...

This shelving system embodies a dramatic contrast: loud and quiet. Strong supporting elements and delicate side walls, which can be arranged in an almost unlimited number of ways between the different levels.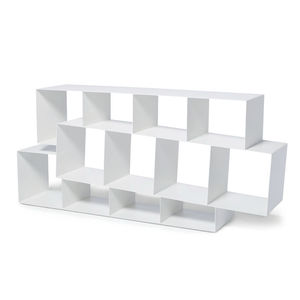 The bookcase is made up of three rectangular modules, identical in terms of proportion, broken down into square sections. The modules, stached in an intentionally unbalanced manner, create a zero gravity effect, especially when filled ...

modular shelf
LINETTE by Thibault Pougeoise
Linette is made of four single modules in metal, which you can hang on the wall the way you want, in order to create your own disposition. In this model, there are 2 pastel blue modules, 1 navy blue and 1 white. MATERIAL 1.5mm thick ...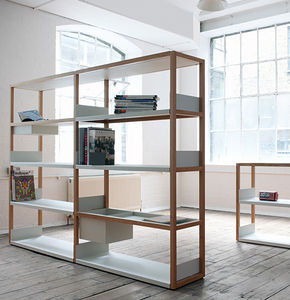 modular shelf
LAP by Marina Bautier
... Expand the solid oak frame width by adding any number of extensions Made in Lithuania Suitable for contract use Metal storage components include: Deep Box Shallow Box Tray Shelf Bookshelf (U-shaped ...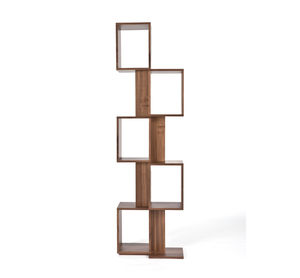 corner shelf
PARTICLE by Shin Azumi
When it comes to storage, one size rarely fits all. Shin Azumi approached the concept of the Particle Shelving in a different way; to design a system which can stand alone as well as it does combined with multiple units to make a wider ...

contemporary shelf
SHELLY
Our teak items is all made of reclaimed teak wood from old houses and fisher boats, and will appear with reparations and fillings.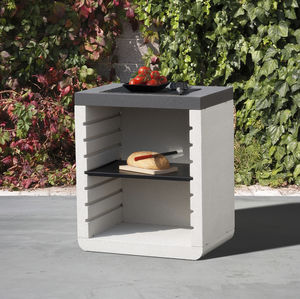 contemporary shelf
ONE SIDE
Side support surface module made of BIANCO CARRARA granulated marble, countertop of granulated marble GREY. Dimensioni: 70x49 h.83.5 Weight: 240 kg

wall-mounted shelf
DOWNTOWN by Roderick Vos
Eye-catcher, bookcase, display cabinet and bar all in one: the Downtown, designed by Roderick Vos, is reminiscent of iconic American Art Deco buildings like the famous Hotel Viktor in South Miami Beach. Steel frame in matt anthracite ...

modular shelf
T 45 by Henk Vos

contemporary shelf
DELTA 001 by Inês Martinho
... Product to be assembled (with assembling instructions) Instructions 0623443_4.PDF Features - Shelves are 19 cm | 7.5" to 66 cm | 26" wide. - The space between shelves ranges from 12.6 cm | 5" to 53 ...
See the other products
TEMAHOME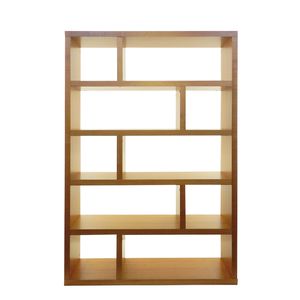 contemporary shelf
DUBLIN
Great shelving at a fantastic price. Height 173 cm | 68.11" Width 120 cm | 47.24" Depth 29 cm | 11.42" Assembly Product to be assembled (with assembling instructions) Instructions Dublin_Shelving_Units__high_and_low__0623374.PDF Features -Storage ...
See the other products
TEMAHOME