How to choose this product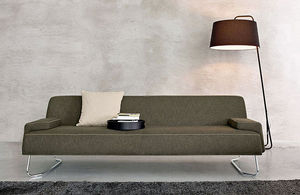 A contemporary sofa is characterized by its clean, geometric lines.
Applications
This furniture can be of varying size and covered in fabric or leather of good quality. Some feature a bright, original color scheme or configuration, while others have clean lines covered in muted shades. The sofa should be positioned carefully with respect to other pieces to create a harmonious atmosphere. It also can be used as a space divider, for instance to separate the kitchen from the living room.
How to choose
The overall form of the sofa is an essential characteristic. In a small room, choose one of modest size with simple lines and a low back. Rounded shapes and characteristics that stand out work well in larger spaces.