The Online Architecture and Design Exhibition

contemporary sun lounger
COLUMBUS SUN by Skagerak
ITEM NO. S1390655 MATERIAL: TEAK/WHITE SUNTEXTURE DIMENSIONS (W X L X H): 66 x 200 x 17

contemporary sun lounger
RIVIERA by Povl Eskildsen
ITEM NO. S1701515 MATERIAL: TEAK DIMENSIONS (W X L X H): 73 x 115/202 x 33

contemporary sun lounger
STEAMER
ITEM NO. S1550505 MATERIAL: TEAK DIMENSIONS (W X L X H): 58 x 163 x 100

contemporary sun lounger
45 by Miguel Angel Garcia
Comfort and adaptation to space in 100% aluminum. Combine the pieces and make an own environment. Easy to clean, carry and stack. Oi Side The new concept of furniture.

contemporary sun lounger
YORK by A.Mandelli & W.Selva
Load-bearing frame in glossy chrome-plated tubular steel, to which is fixed the long chair body with an internal metal frame, upholstered with high-density polyurethane foam. Sterilized goose pother backrest cushion. Removable fabric ...

contemporary sun lounger
TIMELESS by José A. Gandía-Blasco Canales Borja García
Made of powder coated aluminium profiles. Polyurethane foam rubber covered with water-repellent fabric. Removable fabric cover.
See the other products
GANDIA BLASCO

contemporary sun lounger
SOL+LUNA BOREALIS by Dirk Wynants
... surroundings where you will place the furniture. Imagine a lazy day in the sun, a siesta or a relaxing break with a book. In the evening, your best friends drop by unexpectedly as the sun is going down. ...
See the other products
EXTREMIS

contemporary sun lounger
HOLLY
With its simple, modern and linear style, the Holly sunbed, made in aluminium, is easy to use and to move. Holly adds a touch of originality to every kind of setting, from the beach to the swimming pool, from the private ...
See the other products
EMU

contemporary sun lounger
DUNE
With its flowing curves, the Dune sunlounger combines elegance and functionality with exceptional comfort. It boasts an unusually large seat area in OTF, a four-position adjustable backrest, and wheels for easy handling… -Width: ...
See the other products
FERMOB

contemporary sun lounger
MU
The most sophisticated outdoor lounging system ever produced, MU combines the seating technology, modular logic and more compact proportions of the best indoor systems with the lightness, strength and weather-resistance only DEDON can ...
See the other products
DEDON GmbH

contemporary sun lounger
F42-E
Reclining chair, Ludwig Mies van der Rohe, 1931, According to sketch from 1931/32 for the house Lange in Krefeld Material & Colour Frame: stainless steel, matt polished, adjustable in seat and lyingposition Seat and back: ...
See the other products
Tecta

contemporary sun lounger
BERTOIA ASYMMETRIC
... the design into full production. Harry Bertoia's wire collection is among the most recognized achievements of mid-century modern design and a proud part of the Knoll heritage.
See the other products
Knoll

contemporary sun lounger
1966 by Richard Schultz
... wanted outdoor furniture that could withstand the corrosive Florida ocean air. The 1966 Collection is regarded as the first modern outdoor furniture and has been the category standard ever since. FEATURES The 1966 collection ...

contemporary sun lounger
LETTINO by Claudio Dondoli & Marco Pocci
The Lettino sun lounger associates the elegant minimalism of its white lacquered steel and white lacquered aluminium (both cataphoresis-treated) structure and the comfort of a fine outdoor-quality fabric ...

contemporary sun lounger
MVS
The sculptural MVS Chaise recliner by Maarten Van Severen surprises users with its excellent comfort: the resilient material adapts to the shape of the body and is quite soft and pleasantly pliable. The versatile frame structure makes ...

contemporary sun lounger
ASTON "CORD"
Aston is a family of individual pieces, including a sofa, a daybed, armchairs, poufs and chairs, custom-designed to furnish homes and "public spaces" with style and elegance, allowing the conversation to continue between indoors and outdoors. ...

original design sun lounger
BIKNIT
... oversize cord constructed of wool knit fabric over polyurethane core woven on tubular steel with powder coat finish. Base is solid oak. Biknit cover is not removable.
See the other products
MOROSO

contemporary sun lounger
MVS
The MVS Chaise is perfect for a rejuvenating rest or quick nap. Although the recliner looks like a sculptural object at first glance, its comfort becomes immediately apparent upon use. The resilient material conforms to the body and is ...

contemporary sun lounger
RELAX : 5966
Lay down, relax and just be comfortable. Relax is the stringent and modern sunbed designed by Cane-line design team. Let your mind travel and decide to go nowhere for a while. Relax is produced in powder ...
See the other products
Cane-line A/S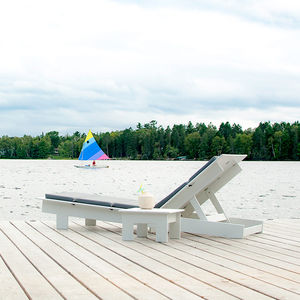 contemporary sun lounger
LOLLYGAGGER
The Lollygagger Chaise Cushion is a soft seating option perfectly fitted for our Lollygagger Chaise Lounge Chair. Small ties set along the edges snug between the seat slats to keep the cushion secure and in place. The cushion is reversible, ...
See the other products
Loll Designs

contemporary sun lounger
ODESSA
Height(h) : 36 cm | Width(w) : 67 cm | Depth(d) : 185 cm |

contemporary sun lounger
AIRPORT by Nicolas Thomkins
AIRPORT collection is made of bend extruded T profile and corrugated aluminum sheets and the concept is from the facade of some old airplane.The seat weaving is conventional with straps for comfort and the cushions following the corruagted ...
See the other products
Higold

contemporary sun lounger
FORTUNA
Fortuna; A Spanish term that means: any expression of emergency that is improvised in navigation (helm of fortune, apparel of fortune, anchor of fortune, etc.). Concept The structure is driven into the sand and supports the fabric to ...
See the other products
DVELAS

contemporary sun lounger
JOY
... decides to make it his base. The Jola wooden lounger combines contemporary design with a timeless shape. It is a versatile product that is suitable both for the terrace or the garden. Thanks to ...

contemporary sun lounger
DUNES
The Dunes sun bed is made of solid wicker with natural cotton cushions and is a luxurious option for your terrace or beside the pool. The Dunes range is an evergreen in our collection. The combination ...

contemporary sun lounger
LA SIESTA
Ideal for outdoor use. La Siesta is the best place to enjoy our garden, terrace or swimming pool. Rocking chaisse with polyethylene base available in two colours: Orange and Pistachio. It is easily balanced by variation of weight. You ...

contemporary sun lounger
CLAUD
The collection is distinguished by a pure minimal design and soft cushions. Furnishings which can be equally placed in an urban interior, in a winter garden, a patio or a terrace.
See the other products
MERIDIANI