How to choose this product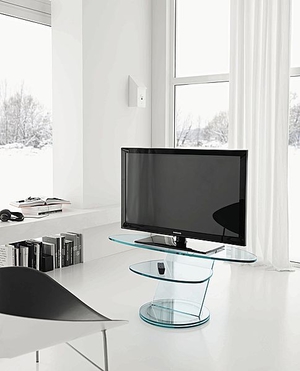 A contemporary TV cabinet expresses originality through its construction, form or materials. In addition to a television, it often holds associated media equipment. It may be freestanding or wall-mounted, and may have wheels, a swivel base or other special features.
Applications
Such furniture may double as a general storage unit. It may be designed for domestic, commercial or public spaces. Mobile units allow television equipment to be easily transported to other rooms. Contemporary models feature an interesting use of materials, suitability for flat screens and clean, bold shapes.
Technologies
Glass, plywood, recycled wood, steel, stone and other materials are used to make these cabinets.
How to choose
Unit size and configuration should be suitable for the existing television and associated devices. It can be fixed or mobile, and designed to blend into its surroundings or stand out. Materials such as glass work well in a number of different environments, while a dark finish in a room with light, neutral colors draws attention.

Determine how cables and wires will be connected or concealed. Consider ease of cleaning. Open shelving lends an air of lightness, but also exposes more surfaces to dust and dirt.