How to choose this product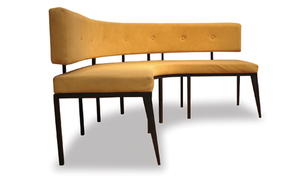 A contemporary upholstered bench is a seat for one or more people which is normally padded, covered in fabric and supported by legs. It may integrate certain elements of traditional or period designs but demonstrates originality by using current technology, materials, forms or colors.
Applications
Such a bench can be a unique piece or part of a set of living room furniture. It may have multiple functions, including integrated storage or shelving. Many designs are suitable for exterior and commercial spaces (e.g., restaurants, cafés or outdoor terraces). This furniture is often upholstered in low-maintenance and weather-resistant fabrics, such as PVC.
Technologies
The cushioned seat and covers of a contemporary bench are often permanently fixed to the frame, but are sometimes removable for easy maintenance. The frame may be partially covered with a textile. The supporting frame can be made from many different materials, including stainless steel, plastic, MDF or veneered wood. Special techniques, such as plywood steam bending, may be used to create curved or complex forms .
How to choose
The dimensions, number of users, intended function and indoor versus outdoor placement are important points to consider. Factors to consider for commercial and exterior applications include durability, weather resistance, number required and the possibility of permanent installation.
Advantages
- Comfortable
- Interesting
Disadvantages
- May be expensive