How to choose this product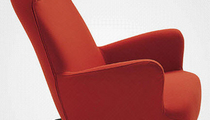 A contemporary wing chair has side panels attached to the back designed to enclose the head or upper body, improving comfort and privacy. It displays creativity through its construction, form or finish, and may even draw inspiration from the designs of classic or traditional models. On ArchiExpo, these pieces are categorized by properties such as type (e.g., executive) or special features (e.g., with footstool).
Applications
Such chairs add interest to a commercial or domestic living area, or may even be designed for improved comfort in office environments. Some include special features such as a swivel base, casters or hydraulic height adjustment.
Technologies
Upholstery options include canvas, cotton, leather and many other fabrics. While some have a traditional solid wood frame, others use steel.
How to choose
Consider how the form, finish, color and proportions of the chair fit with nearby furnishings. Comfort will be affected by the type of padding, texture, height of the wings and armrests, and possible adjustable elements. Ensure that the chair complies with fire-safety and other relevant regulations. Determine its ability to stand up to regular use, and to resist staining, tearing, water and chemicals, as well as finish maintenance needs.