The Online Architecture and Design Exhibition

contemporary armchair
ANYA I
See the other products
Selka-line Oy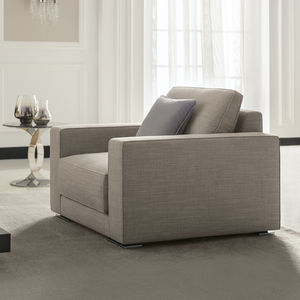 contemporary armchair
WALTER by Angelo Cappellini
See the other products
Opera contemporary

contemporary armchair
ALMA
8618A ALMA ARMCHAIR H Height 76 L Width 61 P Depth 65 H Seat Height 40 Armrests Height 60 Weight Kg 8
See the other products
Veneta Sedie

contemporary armchair
AURA by Mario Ferrarini
... certificate Gliders Standard plastic injection moulded HDPE high density polyethylene, suitable for hard floor or carpet and contract use. Optional felt gliders for wooden floors or metal for carpet.

contemporary armchair
KIRAN by Antonio Strobbe
Collection of armchairs and sofas conceived for contract projects but also suitable to furnish living spaces of the house. The armchair is available with three different base solutions: ...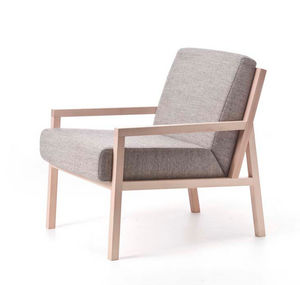 contemporary armchair
PARIS by Enrico Franzolini
Collection of armchair with open or upholstered sides, lounge chair and settee made in beechwood. Seat and back are upholstered with fabric or leather. Seat upholstery is made with elastic webbing.
See the other products
Very Wood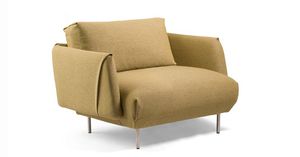 contemporary armchair
FOLD by Hart & Miller
The Fold is an informal contract sofa with a steel frame and loose fitting covers to give a comfortable, continental feel. The emphasis is firmly on comfort, with a sprung webbed seat, and high resistance foam wrapped ...
See the other products
MARK

contemporary armchair
ERMES VESTA
... Ermes armchair, features a new base which is completely integrated with the seat and highlights its sculptural volume. Versatile just like Ermes, the messenger of the Gods, and welcoming like Vesta, God of the hearth ...

contemporary armchair
SOLEIL
Soleil armchair is a synthesis of styles and senses. Inspired by the spirit and mission of the famous Cirque de Soleil, the purpose is to invoke, provoke and evoke. Soft, sultry curves gently embrace the sitter in this ...

Scandinavian design armchair
PR LOUNGE CHAIR
The Portuguese Roots Lounge Chair , is that pure expression of 25 years of aging processe in a story, that ended with the perfect symbiosis between Art and Craftsmanship .Designed to express a story , it is also a chair ...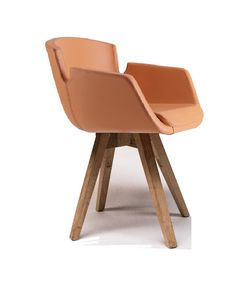 modern lounge chair
2900P
... have matched a nice solid oak 4 legs frame with a Metal frame shell injected by f.r. foam. Select your Pyramid 2900P armchair between fixed shell or 90° left/right swivel shell with automatic return.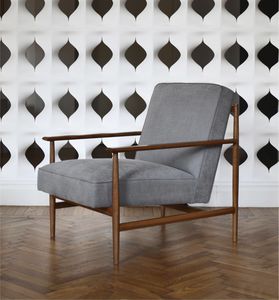 contemporary armchair
GAIA IN TESSUTO
Gaia armchair is inspired by the anonymous design of Brazilian furniture of the '50s. Gaia is simple, refined and comfortable, with a precious interlocking structure made in walnut, ash or wengé by our best Italian craftsmen. Presented ...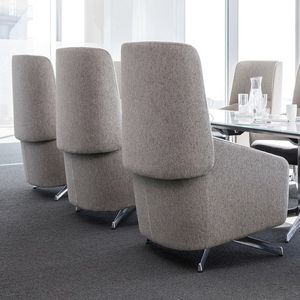 contemporary armchair
COVER by Claesson Koivisto Rune
Designed by Claesson Koivisto Rune, the Cover lounge collection is inspired by classically tailored garments worn in a layered style. The collection plays in tune with any room, office or even home. With a high degree of upholstered comfort, ...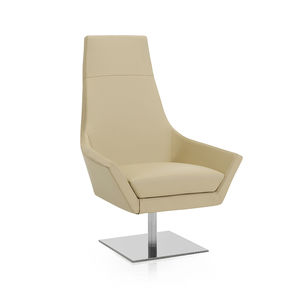 contemporary armchair
ANAK
... created to enhance any space on which it is installed. A professional solution for soft seating for groups in corporate and contract spaces that gives personality the environment in which it sits. A very personal ...

Scandinavian design armchair
NUBA
Its design and versatility is highly appreciated by architecys, interior designers and professionals of the contract sector. Massive beech legs, with a curved metal union piece and an ergonomic upholstered seat produced ...

Scandinavian design armchair
SILLON NUBA XL
Stylish armchair inspired in organic volumes. Its nordic style with beech massive legs, curved steel tube and a hihgly comfortable seat, offered in a very wide range of fabrics. Nuba XL is customizable and suitable for ...

contemporary armchair
MARPE
Armchair with armrests Material: 100% Poliester 83 x 82 x 75 cm
See the other products
EqHo

Scandinavian style armchair
MOGUERA
Armchair with footrest Ash wood Polyester fabric Armchair: 82 x 72 x 92 cm. Footrest: 64 x 41 x 44 cm.
See the other products
EqHo

traditional armchair
ROGAR
Armchair Colour: Pink Material: 100% Polyester. Wooden legs.
See the other products
EqHo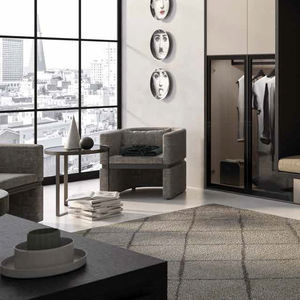 contemporary armchair
ABLE
An essential vision of the armchair.The idea takes form from the chance to convert a basic piece of furniture such as the armchair, suitable to houses and contract locations too, making ...

contemporary armchair
NEBRA
Ref. 19.360.1 Width : 57.5 cm Depth : 82.5 cm High : 80 cm
See the other products
Viveti

contemporary armchair
ALI by Skrivo
76 x 62 x 79h cm It completes the range of the homonym chairs and armchairs, it is a comfortable and characteristic armchair that is well suited for both residential and contract use. It ...

contemporary armchair
X-ENZO
Functional and comforming as the legendary fifties style that has inspired this lounge. Fantastically comfortable and enveloping thanks to the thickness of the upholstery. A lounge rich in chracter and able to liven up the space. D ...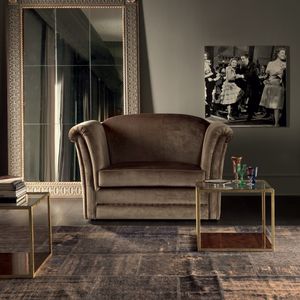 traditional armchair
ART 247 D
... offer real works of artcreated entirely by hand and customised ad hoc on the basis your requirements. White upholstered armchair