How to choose this product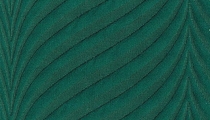 Cotton fabric is a natural textile produced from plants of the genus Gossypium. Many colors, textures and thicknesses are available. Cotton is cool and durable. The range of finishes includes velveteen, a soft pile version, sheer muslin, pima cotton, which is fine and smooth, and sailcloth, a sturdy, durable cotton for outdoor and marine applications.

Cotton is used in a number of blended fabrics. Less damaging to the environment, organic cotton is growing in popularity. On ArchiExpo, this material is categorized by properties such as motif or type of cotton.
Applications
This popular cloth is often used for clothing, drapery and upholstery. It is available in a number of sheer finishes and colors which filter and change the color of natural light, ideal for drapery applications. Cotton is a good choice for upholstery as it feels comfortable against the skin in summer and winter. Certain varieties also age well.
How to choose
Choose a fabric suitable for its intended function. Upholstery should resist wear and tear. Close-weave cotton with a smooth finish is durable and easy to care for and durable. Pile fabrics such as embossed velveteen attract dust and tend to wear relatively rapidly.

Consider how the appearance of the fabric affects the overall quality of the space. Patterned material is more appropriate in high-traffic environments where staining or damage is more likely.