How to choose this product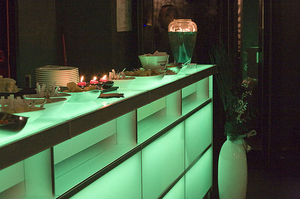 A counter is a flat surface for carrying out commercial transactions, doing work or serving consumables. It is sometimes referred to as a worktop or work surface. On ArchiExpo, these items are categorized by properties such as material or intended use.
Applications
Counters in shops, bars and other commercial settings are used for serving and financial transactions. They may include a base unit for storage or product display. While such counters tend to be tall and narrow, those serving as work tops are usually wider and may even be designed to accommodate seating.
Technologies
Laminated particleboard, concrete, marble, steel, wood or even glass are among the many different materials used to make counters. Some are purely functional, while others are also decorative.
How to choose
The counter should be suitable for its intended purpose. Appearance, materials and color coordination may be important in a counter for commercial transactions. One designed for food preparation or delivery, as in a sandwich bar, must be durable, hygienic and easy to maintain.

Consider installation configuration: freestanding, placed over storage cabinets or wall mounted. Another factor is the need for additional features to enhance aesthetics, such as an ambient lighting display for a bar or restaurant environment.