How to choose this product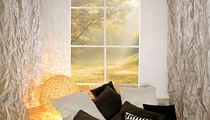 A curtain is suspended fabric used to block light, enhance privacy or to keep water within a defined space. On ArchiExpo, such items are categorized by properties including material, function or type of attachment.
Applications
As well as being used to control light and privacy, curtains may also be used in theaters, as spaces dividers in sports centers or community facilities, to keep water in a shower or for screening in a hospital or operating theater.
Technologies
Curtains are usually vertical and can be opened or closed by hand, with draw-pulls, or use a manual or electronic pulley system. Curtains are normally hung on a wall, mounted on the ceiling or suspended from a curtain rail, which may have a track system.
How to choose
Ensure that the curtain material is suitable for the intended use and the room decor. Consider whether light needs to be totally or partially blocked. Verify use of proper fasteners and that the wall or ceiling can support the weight of the curtains.

Maintenance requirements are particularly important for curtains hung in public and commercial spaces. Check compliance with local regulations. Theater curtains must be highly fire-resistant, while hospital curtains should meet certain hygiene standards and be easily cleaned.

Determine ease of operation. Manually drawn curtains sometimes can be accidentally pulled down. For large scale buildings, pulley systems may be considered more appropriate.