How to choose this product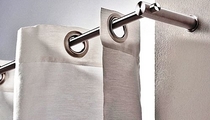 A curtain rod, also known as a curtain rail, is used to suspend curtains. It is normally wall-mounted. The curtain is attached by threading its eyelets or rings onto the pole.
Applications
In addition to standard straight poles, there are also telescopic and angled rods, a practical solution for bay or corner windows.
Technologies
Wood, plastic, aluminum, stainless steel and other materials are used to make these rods.
How to choose
Ensure that the rod length and diameter are suitable for the curtains and the window. The rod and the wall must be strong enough to support the weight of the curtains. A curtain rod can frame a window opening. Its style can be chosen to complement or contrast with that of the curtains. Some have ornate brackets or end pieces (finials), which can serve as decorative elements in a neutral space.