How to choose this product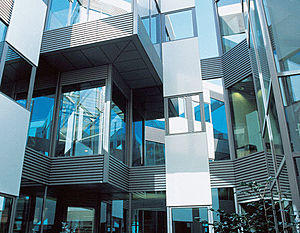 The curtain wall is a light-weight facade made from industrial materials and installed on a building's structural skeleton, a method which contrasts with traditional construction procedures.
Applications
These structures are common in office and apartment buildings. As with other facades, they must fulfill a range of functions, including impermeability, thermal and acoustic insulation and resistance to fire.
Technologies
The curtain wall does not ensure the building's structural integrity. Its components constitute a "secondary skeleton," to which the covering elements are attached. The curtain can be of prefabricated panels of glass, stone (marble, travertine, limestone, granite, etc.), aluminum, ceramic, steel or any other weatherproof material.
How to choose
Choice will depend on the building's functional and aesthetic needs, including energy consumption. The curtain should blend easily into its architectural environment.
Advantages
- Thinness reduces building footprint
- Prefabricated, light, rapid installation