How to choose this product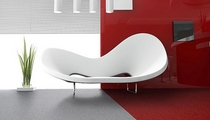 Cut pile carpet is the best-known type, easily adaptable to different settings and decors. To increase durability, its threads are heat-twisted, though not to the point of looping. There are numerous fiber types, colors and designs. It exists in rolls and tiles, and can be laid using double-sided tape, glue or another adhesive.
Technologies
These carpets are made of natural or synthetic fibers, or a combination of both, the most common being wool, cotton, linen, polyamide and polypropylene.
Advantages
- Noise absorption
- Thermal insulation
- Comfort
Disadvantages
- Requires regular maintenance