How to choose this product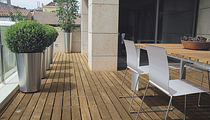 A deck board is usually nailed to a structure of joists installed on or above the ground. Originally of solid wood only, today's decking can be of engineered wood, plastic, concrete or another material. Some types are made from certified wood or recycled products.
Applications
Decking is treated for exterior use in yards or on terraces, whether in residential or commercial settings.
How to choose
Choice will depend primarily on constituent material and intended use. Class 3 wood is suitable for covered areas, but Class 4, treated to resist moisture, should be used in exposed areas. Product quality and durability should be considered, as well. Safety factors, such as non-slip surfacing, also are important.
Advantages
- Natural look