How to choose this product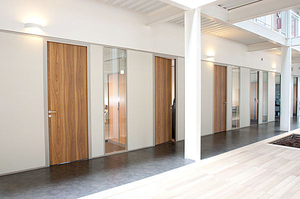 A decorative laminate is a composite sheet made from layers of a paper or a similar material bonded and cured under pressure with resin. It may be high or low density with a decorative finish covering one or both sides. On ArchiExpo, these elements are categorized by properties such as finish or type.
Applications
These laminates are designed for wall panels, furniture, or even flooring. Economical and available in a wide range of finishes, they are common in both residential and commercial settings.
Technologies
High-pressure laminates (HPL) are cured under high pressure. Some laminates incorporate fire retardants, antibacterial or anti-fungal agents. Thickness and finish vary. Options include printed decorative paper and thin veneers of metal or wood, offering natural or unique finishes.
How to choose
Ensure that the laminate is appropriate for its intended use, be it flooring, furniture, work or other surfaces. Verify compliance with local and international standards, including fire resistance, antibacterial and other properties.

Environmental considerations are also important. Some products release release volatile organic compounds or are difficult to recycle. Determine sturdiness and ease of cleaning. Choose finish in light of surrounding decor. For example, using a wood finish may work well in spaces with natural color scheme.
Advantages
- Uniform, easy-to-maintain finish
- Economical
- Wide variety of finishes
Disadvantages
- May be difficult to recycle