How to choose this product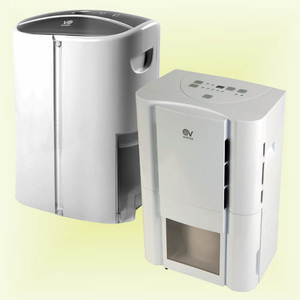 Interior humidity that is too high or low can adversely affect the health of occupants. Excess humidity can enter from the outside or be generated inside, such as in bathrooms and kitchens. Humidity in excess of 70% creates favorable breeding conditions for mites and ticks, fungus and mildew. In such conditions, a dehumidifier is necessary to maintain a safe range of 40-60% humidity.
Technologies
These devices have internal system that absorbs ambient humidity, conveys it through a cooling coil and condenses it into a recovery tank. The dry air is reheated to its original temperature by a warming coil before being blown back into the room.
How to choose
Choice will depend on domestic or industrial application, size, the capacity of its holding tank and the volume of air it is intended to treat. Where there is insufficient space for a dehumidifier with a reservoir, choose a model connected directly to a drain, an ideal arrangement for extremely humid areas.
Advantages
- Improved air quality
- Comfort