How to choose this product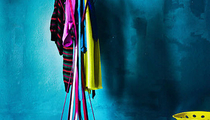 A design coat rack expresses originality through its form, the way it is used or its constituent materials. Wall-mounted, freestanding or hanging, it can serve as a point of interest in an entryway. On ArchiExpo, these pieces are arranged by properties such as type, special features or mounting method.
Applications
Such pieces are normally intended for residential entry areas for the temporary storage of coats and other belongings. Some may have extra features such as built-in lighting. They often make an interesting decorative element when not in use.
Technologies
Stainless steel, aluminum, acrylic, wood and other materials are used to make these coat racks.
How to choose
Consider how the form and style of the coat rack will contrast with or complement nearby furniture. Determine the number and types of items it will hold, ensuring that it can safely support the weight of heavy coats. It should be sturdy enough to withstand heavy use and resist scratching.