How to choose this product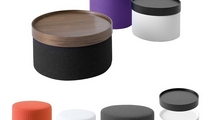 A design coffee table may be innovative in its structure, concept or the materials used. It may even have an original function. For example, it may consist of a metal sheet folded into an asymmetric C-shape, creating a horizontal surface with storage beneath. On ArchiExpo, such furniture is categorized by style, material or function.
Applications
These pieces may be used as the focal point of an interior or exterior living space. It may be multi-functional by incorporating seating. Models include modular, stackable, folding and those which include storage space or lighting.
Technologies
Such tables are sometimes made from unusual materials including brass, recycled materials or fabric.
How to choose
Consider how the style works with the surrounding decor. For example an organic-shaped, brightly colored table may make a great focal point in a large neutral space, but appear awkward and obstruct movement in a confined area.

The design should suit the purpose. Brass and other models are heavy, robust and hard to move. Others, such as a light outdoor rattan table, can be moved easily. Mobile versions may be particularly important in hotels, shops and other commercial environments to facilitate cleaning.

Determine maintenance requirements and whether the material resists scratching, staining and harsh weather. Some plastic tables are waterproof and stain-resistant, but scratch easily or deteriorate in direct sunlight.