How to choose this product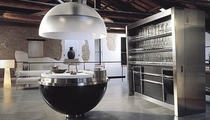 A design kitchen is characterized by its original form, function, materials and/or construction method. It may challenge traditional concepts and introduce new ideas (e.g., it may be mobile or even wall-mounted). On ArchiExpo, design kitchens are arranged by properties such as materials or forms.
Applications
Such a kitchen may be ideal for home or other settings where quality and style are as important as function, where the kitchen is an important living space.
Technologies
In addition to traditional elements of wood or laminated boards, a design kitchen may use unusual materials such as carbon fiber, glass, aluminum or finishes with a reduced environmental impact such as water-based lacquer.
How to choose
Consider how the kitchen will fit within the available space, whether a separate room or an open-plan environment. Style and form may complement or stand out from surrounding finishes and furniture.

Favor robust, low-maintenance designs and evaluate resistance to scratching, UV, stains, heat and impacts. Determine desired kitchen size and the integration of appliances while ensuring enough space for circulation.
Advantages
- Original
- High quality
Disadvantages
- Expensive