How to choose this product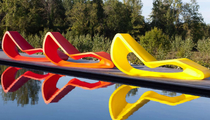 A design lounge chair (or chaise longue) is normally a long seat used for relaxing. It may be unique in its form, use of materials, function or construction, and may even challenge or reinvent the concept of standard lounge chairs. On ArchiExpo, this furniture is arranged by properties such as materials used or style (e.g., Scandinavian).
Applications
Such lounges are suitable for domestic or professional use in interior and exterior environments. For example, it may be a unique focal point in a living room space, or one of a series of poolside recliners at a hotel or spa. It may have unusual secondary features, such as lighting or book storage.
Technologies
Such furniture may be made from a wide range of unusual materials, including stone, rotational molded polyethylene, reclaimed wood, recycled fabrics or even stainless steel.
How to choose
Consider how the chair's style and form will complement or stand out from its surroundings. Determine the relative importance of comfort and style, the need for a fixed versus a mobile model, and suitability for indoor and/or outdoor use. Other factors include required maintenance and resistance to shock, scratches, fire, stains, UV, water and corrosion.