How to choose this product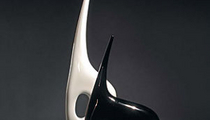 A design vase expresses individuality through its original form, function construction or materials. It may hold cut flowers in an unusual way or be associated with seating, lighting or another function. There are table, floor and wall-mounted versions, sometimes constituting a sculptural focal point.

Shape and capacity determine the type and number of flowers for which it is suited. While short vases with wide openings work well with a bouquet of short-stemmed flowers, tall models with narrow openings are often intended to frame a single, tall flower. On ArchiExpo, these items are arranged by characteristics such as material.
Technologies
Bamboo, wood, marble, ceramics, metal, glass, plastic and other materials are used to make design vases.
How to choose
Consider how the vase will be cleaned and maintained. The narrow opening of some convoluted shapes can make cleaning difficult. Avoid fragile or easily scratched materials in high-traffic areas. Ensure that the vase is suitable for the type of flowers it will hold, and evaluate how its style and finish will complement the space.