How to choose this product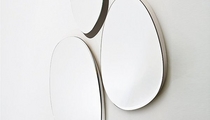 A design wall mirror expresses an original notion through innovative use of materials, form, color or construction method.
Applications
As well as being used for checking one's appearance, such a mirror may be used to round out room design. It may be a focal point, sitting at an angle intended to reflect images and light in an unusual way. This may lend a note of individuality to a living or dining area, or add a touch of luxury to commercial or retail spaces.
How to choose
Consider how the shape and proportions of the design fit in with existing decor. Decide whether the mirror will be a focal point or placed to draw attention to other interesting views or pieces of furniture. It could be displayed like a piece of art work or used in transition space such as a hallway to improve light quality and make an entrance appear more welcoming.

Evaluate sturdiness and ease of maintenance. In children's bedrooms and commercial settings, where security is paramount, be sure the mirror is made of safety glass that will break into harmless bits rather than dangerous shards if shattered.