The Online Architecture and Design Exhibition

ebony desk
MATTHIEU by Andrea Fogli
Height: 78 cm
Length: 180 cm
Width: 70 cm
Writing desk provided of two drawers with mirror bottom, Makassar ebony veneered, in mat, semi-gloss or gloss finish, with two legs variants: gloss black lacquered wooden legs gloss brass plated, gloss chromed or ...
See the other products
DOM edizioni

solid wood desk
PURE H 811
Height: 75 cm
Length: 180 cm
Width: 90 cm
PURE H 811 DESIGNED BY HANS HANSEN Büro / Esstisch Dining- / Officetable Material / Materials Edelstahl geschliffen 50 mm Stahl pulverbeschichtet Stainless steel brushed 50 mm Steel powder coated TOPS Glas ESG I Safty ...

Shoulder and fronts in open pore lacquer Mother of pearl 224. All-in-one desk top and back in open pore lacquer Piacenza Grey 230. Lola chair in open pore lacquer Lead 229 and Cat C. art. Casale col. 01 fabric. W 380 ...
See the other products
Tomasella Compas

Height: 149.4 cm
Length: 60 cm - 300 cm
Width: 32.8 cm
... equipped wall bookcase offers the possibility to create study or work areas even in reduced spaces, accessorized with shelves and desk. Virtual versatility makes it a modern modular bookcase, able to match the needs of ...
See the other products
Clever

wooden desk
CABRIO IN by Giulio Manzoni & Pierluigi Colombo
... , it can be integrated into the Living & Young System modular programs. The system is composed of a wide lifting up writing desk and a single bed. By a simple movement it transforms into the night configuration without ...
See the other products
Clei

wooden desk
FJU by Kaschkasch
Fju is an extremely linear desk, a practical foldable work space than can be closed to free up space whenever you need it.

Height: 76 cm
Length: 200 cm - 300 cm
Width: 52 cm
A composite table consisting of two parts. One Jonas part mounted on the wall has become a desk/ console table dimensions: starting from 200 to 300 x 52 x 76 cm (lxdxh) types of wood: available in oak or elm, maple or walnut
See the other products
Pilat & Pilat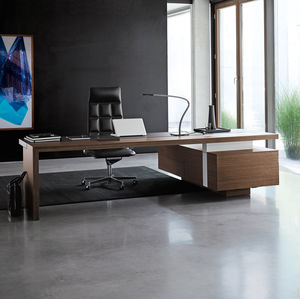 executive desk
CEOO by Eoos
Height: 74 cm
Length: 220, 240, 260, 280 cm
Width: 101, 203 cm
Architectural statement: the new head office and conference programme of the EOOS design team appeals for its strong aesthetics. Proportions and dimensions impress in the interplay with elegant materials. On a geometric basis, the collage ...

Desk with frame and 2 metal trays in laquered metal, top and 2 wooden drawers.

multimedia desk
215 STARFISH by Autoban
Height: 76 cm
Length: 190 cm
Width: 90 cm
Starfish is a solid wood table with a unique profile created by the organic contours of the legs. Suitable for the dining room or workspace. Designed by Autoban and manufactured by De La Espada for the Autoban brand. SIZE w.190cm x d.90cm ...
See the other products
DE LA ESPADA

Height: 74 cm
Length: 140 cm
Width: 70 cm
WRITING DESK, LIMITED EDITION 100 PIECES. FACED WITH PANELS OF BRUSHED STEEL FINISHED WITH 24- CARAT PURE GOLD PLATING; DARK GREEN LACQUERED DRAWER INTERIOR. THE PANELS ARE FINISHED BEFORE ASSEMBLING AND THEN INSERTED ...
See the other products
Giorgio Armani Casa

lacquered wood desk
EDWARD by Andrea Parisio
Height: 86 cm
Length: 140 cm
Width: 95 cm
Writing desk with a drawer and a lip. Lacquered wood available either in a glossy or matt finish. Metal base with a matt black varnish.

Height: 72 cm
Length: 300 cm
Width: 88 cm
PRIOR luxury desk. To try to understand its real essence, it should be compared to an haute couture dress or a luxury jewel, something like a unique piece created and completely hand-manufactured by the best skilled artisan ...
See the other products
MASCHERONI

Height: 74 cm
Length: 326 cm
Width: 240 cm
... rectilinear top extends lengthwise from the cabinet, seamlessly sloping to form the opposite base. A re-design of the classic desk, made possible by the outstanding performance of carbon for the structure.
See the other products
Luxury Living

Height: 155 cm
Length: 173 cm
Width: 71 cm
... wrapped with a unique weaving pattern inspired by the rough texture of elephant skin. This modular piece evolves into a working desk with a drawer and several compartments for tomes and artifacts. Materials Indoor rattan, ...

STYLISH YET FUNCTIONAL. For now! spin, there are as many uses as ideas. You can use the multi-talent as a home office, bar, TV-unit or dining table, in the living room, dining room, kitchen, bedroom, teenager's room or hallway. A now! ...
See the other products
NOW! By Hülsta

Height: 80 cm
Length: 202 cm
Width: 98 cm
ART. 9925 DESK WITH 8 SIDE AND 1 CENTRAL DRAWER, FINISH HAZEL CRAQUELE' POLYCHROMED WITH OCHRE DOUBLE TONE COD. 07, TOP COVERED WITH GOLD ENGRAVED LEATHER TOBACCO MEASUREMENTS: CM. 202 X 98 X 80H.IOVE Studio , hazel craquelè ...

birch desk
VACLAV by W.Sirch & C. Bitzer
Height: 60, 66, 72 cm
Length: 115 cm
Width: 63 cm
childs desk with adjustable height (three settings) made of raw, finely-polished birch plywood; table top waxed whitethe table can be dismantled for children of 6 years and upwards pencil groove with high-quality felt ...

Furniture on a mission, Quest surrounds workers with a multitude of office solutions. A comprehensive selection of components can be configured to suit a variety of spaces. Featuring the finest select maple, cherry, and walnut veneers ...

Height: 72 cm
Length: 101 cm - 272 cm
Width: 61, 101, 210 cm
Giving life to a well-measured and efficient space, at the same time comfortable, aimed at wellbeing, tactile and with visual pleasure which is typical of the domestic environment: this is the challenge of Revo, the collection of executive ...

Height: 75 cm
Length: 160 cm
Width: 80 cm
Desk with carved grooves. Beech 63"W x 31 1/2"D x 29 3/4"H 160cmW x 80cmD x 75cmH
See the other products
JOHN HUTTON TEXTILES

multimedia desk
BRONZINO : IC.C.065.05
Height: 74 cm
Length: 135 cm
Width: 70 cm
edge maple 10% gloss AA structure medium glossy black lacquered ref. Ral 9017 30% gloss LB medium glossy mahogany 30% gloss GM

Height: 73 cm
Length: 122, 163 cm
Width: 70 cm
The Homework Desk is an elegant and highly versatile work desk that is available in two sizes. Both desks can be ordered with single, double, or file drawers, and may be configured according ...

glass desk
MEETING BY Lucci e Orlandini
Exchanging ideas leads to creative solutions, in the knowledge that sharing helps achieve great results. Synergy of a group is measured through its achieved objectives. For this reason, the right decisions made when designing shared ...

laminate desk
TB 229 Classic Line
Height: 77 cm
Length: 175 cm
Width: 80 cm
Confident statements independent from fleeting trends! The CLASSIC LINE models present themselves in a very distinctive way – elegant, functional and sound. With its clear message and long-lasting shapes this high-class furniture represents ...
See the other products
Müller