The Online Architecture and Design Exhibition

Height: 75 cm
Length: 160 cm
Width: 80 cm
Desk with carved grooves. Beech 63"W x 31 1/2"D x 29 3/4"H 160cmW x 80cmD x 75cmH
See the other products
JOHN HUTTON TEXTILES

multimedia desk
BRONZINO : IC.C.065.05
Height: 74 cm
Length: 135 cm
Width: 70 cm
edge maple 10% gloss AA structure medium glossy black lacquered ref. Ral 9017 30% gloss LB medium glossy mahogany 30% gloss GM

Height: 73 cm
Length: 122, 163 cm
Width: 70 cm
The Homework Desk is an elegant and highly versatile work desk that is available in two sizes. Both desks can be ordered with single, double, or file drawers, and may be configured according ...

glass desk
MEETING BY Lucci e Orlandini
Exchanging ideas leads to creative solutions, in the knowledge that sharing helps achieve great results. Synergy of a group is measured through its achieved objectives. For this reason, the right decisions made when designing shared ...

laminate desk
TB 229 Classic Line
Height: 77 cm
Length: 175 cm
Width: 80 cm
Confident statements independent from fleeting trends! The CLASSIC LINE models present themselves in a very distinctive way – elegant, functional and sound. With its clear message and long-lasting shapes this high-class furniture represents ...
See the other products
Müller

TIX combines functional and visual aspects at the very highest level. But it exhibits contrasts too: the vertical support structure in aluminium or steel represents precision technology, the solid wood table top, warm, authentic and natural, ...

executive desk
DANTE 180 by Michele Di Fonzo
Height: 73 cm
Length: 180 cm
Width: 90 cm
The desk, which is simple and elegant in shape, is entirely clad in leather. The surface is defined by geometric stitching which creates the effect of a refined handrest. The 180 cm version is available also as a dining ...
See the other products
Frag

AyA offers a wide range of options in door styles, finishes, hardware and accessories. Whether your design style and preferences be traditional and classic or ultra modern, AyA caters to all customers and styles.

Height: 78 cm
Length: 150 cm
Width: 82 cm
W 150 x D 82 x H 78 cm. Rosewood and Violetwood.
See the other products
Fort Royal

wooden desk
ELECTA by Archirivolto
Height: 72 cm
Length: 100 cm
Width: 90 cm
Desk table with wood structure completely covered in soft leather with hide leather details. Compartment with removable object-holder and container carrying-cables, both in walnut. Opening compartment by removable magnetic ...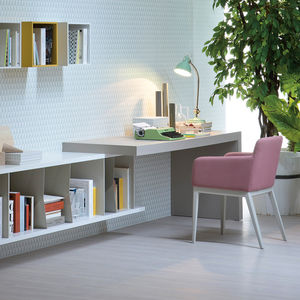 Freestanding or used in conjunction with a storage unit supporting one end, the Elle desk has a distinctively thick top.
See the other products
NOVAMOBILI

Be allows you to transform the cot and be mini into your personal work space.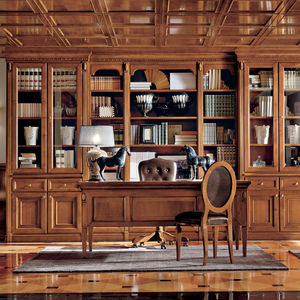 Turin, tradition and innovation Classic luxury office in antique cherry.
See the other products
MARTINI MOBILI

lacquered wood desk
COMP. 922
A project up to date with times and keeping up with today's active youngsters, with desire for discovery, novelty, and the curiosity to travel to meet new people and discover different cultures. The collection is characterised by free, ...
See the other products
TUMIDEI

oak desk
PIGRECO by Emmanuel Babled
Height: 74 cm
Length: 17, 200, 250 cm
Width: 92, 100 cm
... possible to add cm.50 in the length. It is also possible to add a chest of drawers under the table top, to have an elegant writing desk.

THE TOPIC HERE IS THE DREAM, DESIGN, PRESTIGIOUS MATERIALS BUT ALSO ATMOSPHERE, EMPHASIS, SURROUNDINGS. ALFAOMEGA: AT THE SAME TIME FUTURISTIC AND HI-TECH IN ALFA AND PRESTIGIOUS AND ELEGANT IN OMEGA A STYLE THAT REMINDS AN ORIGINAL ...
See the other products
Codutti

Height: 34 in
Length: 42 in
Width: 25 in
... modern study desk. Desktop is in a warm walnut with putty grey or humble red accents or white-ash veneer with a white steel accent. Cant Small Modern Study Desk: • Walnut / Red ...
See the other products
BLU DOT

Height: 75 cm
Length: 115 cm
Width: 60 cm
115L x 60W x 75H Collection Guadarte classic furniture is timeless and elegant. They are products of time and many of his pieces are icons decoration. Each item is made by hand, you can be customized and is available in a wide range of finishes.
See the other products
GUADARTE


See the other products
Angelo Cappellini

MDF desk
CHAOS MANAGER by Martì Guixé
Height: 72 cm
Length: 160 cm
Width: 40, 80 cm
Guixè has designed a table that can be used while sitting or standing. The two different heights are adjustable at any time. A practical and useful table composed of simple elements, it is easy to assemble thanks to its telescopic ...

oak desk
PORTER by Friso Dijkstra
Height: 75 cm
Length: 100 cm
Width: 230, 240 cm
Palau recently expanded her collection with table Porter, a design by Friso Dijkstra. New Ways to Work request flexible applications. A work-unit is not just to work but is also a place to eat, get together for meetings or to socialize. ...

MDF desk
WRITE by Peter J. Lassen
writing desk with room for fine words and big ideas. WRITE is the perfect, small workplace with room for laptop, papers, notebooks and other things that are nice to have on hand. Montana Collection is our take on ...
See the other products
Montana Møbler

Height: 76 cm
Length: 150 cm
Width: 70 cm
Desk BRISTOL oak, metal feet 4 drawers, leather handle Dimensions cms (L/w/h) : 150 x 70 x 76 Weight : 83.25 kg Additional information : Frame : oak, plywood + veneer oak Legs : metal Finition : natural Delivery ...
See the other products
BLANC D'IVOIRE

tempered glass desk
MT26R
Height: 75.5 cm
Length: 130 cm
Width: 126.5 cm
Desk in glass and methacryl legs Dimensions : 130x 126,5cm Ht.75.5cm Desk in tempered glass Th.12mm and P.M.M.A composed of : 5 Logs in P.M.M.A Ø 60 mm * Upper plate with 4 glued aluminium pucks ...
See the other products
MARAIS INTERNATIONAL