The Online Architecture and Design Exhibition

The Yucca desk, with or without a mirror, hangs on the wall!
See the other products
nidi

melamine desk
LILLI : 54478
Length: 52 cm
Width: 175 cm
consists of: 1x wardrobe 1 door, 4 shelves, 1x wardrobe 1 door, 2 shelves, 1 rail, 1x winding board, 2x shelf boards, expandable with lowboard art. 54435

wooden desk
DEBE.DELITE - TEENAGERS 01
... is this combination of shelves and wardrobes with an integrated tabletop, made out of massive beech – also adjustable in height. This gives room and storage for anything you need. Above the desk, there's ...

solid wood desk
COMPACT 9006
Desks have a wide range of finishing, with either straight or shaped top (which can even be customized upon the client's design), 30 mm or 60 mm thick. All desks can be easily personalized and therefore ...
See the other products
Dear snc dei F.lli Pozzi

See the other products
Asoral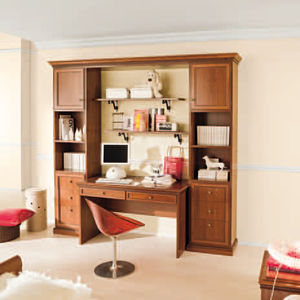 multimedia desk
OPERA RAGAZZI-01
COMPOSITION 07 A corner dedicated to studyng stimulates concentration. Two drawers conceal and two shelves put on display.
See the other products
Corazzin Group - Contract & hotel

Practical, functional and suitable for small spaces is the new office signed by Join. Its minimal design, with built-in lighting, makes it suitable to fit even in the living room, in a hall or in the dining area.

... away? For storage, do you need filing drawers, stationery drawers, open shelving? For extra workspace, how about a pull out desk extension? These are just some of the considerations that we take into account. Easy ...
See the other products
Hanging Space

oak desk
FILOU by Élise Fouin
Height: 85 cm
Length: 85 cm
Width: 27 cm
This wired desk FILOU is a real working station : to look up emails, charge phones or tablets, to pin up notes, having at the same time everydays essentials at hand. It is possible to work seated or standing. Not too ...

Our Desk Wall Unit offers a working space combined with storage. This unit is made from solid oak, featuring two shelving units and a soft edged desk area. Perfect for any home or office.

oak desk
ROYAL SYSTEM by Poul Cadovius
Height: 109, 72 cm
Length: 125, 175 cm
Width: 80 cm
... space to live on". ROYAL SYSTEM® consists of wall-mounted wooden rails, shelves with hangers in brass or stainless steel and various modules such as cabinets, drawers and desks, which can be customized ...

lacquered wood desk
LOUNGE COMPOSIZIONE 409
Desk, hanging element and shelf are open pore bianco 17 lacquered, while large drawer base units and the back panel are matt piombo 78 lacquered: perfect fusion between home office and living. Optional ...
See the other products
Rossetto Armobil

melamine desk
LIBRERIA DA APPOGGIO
Length: 67 cm
Width: 35, 46.5 cm
... shelves, veneer white or wengè color. available in three sizes: module A (5 shelves): W. 47cm x H 189cm x P 35cm module B (desk + 2 sh.). W.67cm x H 189cm x P 46.5cm module C (5 shelves): W. 67cm x H 189cm x P 35cm
See the other products
Cinius

wooden desk
ELF 10+ : 55009202
Set Elf 10+ For teenagers and high school students on the basis of the Elf collection is designed the line Elf10+. We have kept the main thing - an amazing atmosphere of love and comfort, ecological purity of materials, particularly ...

Height: 74 cm
Length: 85 cm
Width: 54 cm
Description LxWxH: 54x85x74 cm White *Compatible with mid sleeper bed, straight ladder and mid sleeper bed, soping ladder

wooden desk
PARTITA by Faruk Malhan
Height: 107 cm
Length: 200, 300 cm
Width: 70 cm

MDF desk
SLOPE LONG by Pinar Yar Govsa
Height: 160 cm
Length: 130 cm
Width: 60 cm
Driven from its graphical side features Slope is a desk that has looks of a ladder. It is a great desk to motivate teenagers or adults who loves a home office. Materials : Eco MDF, Solid Wood, Water based ...
See the other products
LIL GAEA


metal desk
CHAMPION – FLEX DECK
Length: 120 cm
Width: 30 cm
Addition for children's desk Champion.Multi function wall that is hung directly on the feet on two carriers. The standard features include 1 fabric covered magnetic boards 2 shelves. Two aluminium-coloured coated book ...
See the other products
moll Funktionsmöbel GmbH

XY shelving and upright profiles in white aluminium finish C12 + single drawer unit, double leaf door, desk top with support structure in white lacquer finish Q05. Accessories: glass shelving, module 120, bookends in ...

Height: 160 cm
Length: 135 cm
Width: 50 cm
A desk … it is not only a place of work, but also a place of exchange, of reading, having ideas and memories to keep and store. "Staples" provides storage space in different superposed boxes, whether for books, papers, ...

maple desk
SOLVEIG'S SONG

Height: 30.5 in
Length: 44 in
Width: 22 in
... by design, this desk will last your child all the way through grade school and high school. It's built with a keen attention to quality, with solid mahogany framing and a painted finish that allows a glimpse of the wood ...
See the other products
Pottery Barn Kids

wooden desk
COMPOSIZIONE 103
See the other products
Doimo City Line

wooden desk
AMICI - WH/GR
Length: 430 cm
Width: 30 cm
A CORNER TO ORGANIZE AS YOU PLEASE. THE DESK TOP IS INSERTED IN THE BOOKCASE, ON THE SIDE IS A VERTICAL CONTAINER ON WHICH THE COLOUR CREATES AN APPEALING LUMINOUS EFFECT.