The Online Architecture and Design Exhibition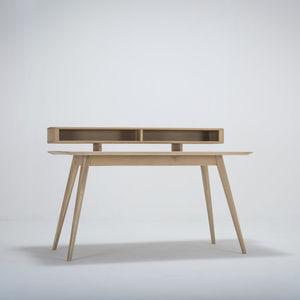 oak desk
STAFA by Salih Teskeredzic
Height: 94 cm
Length: 140 cm
Width: 80 cm
... precious creation to date: his daughter Ena. Product info: Size: W: 140 cm D: 80 cm H: 94 cm Material: Solid oak Storage functions: Two shelf compartments (also available without)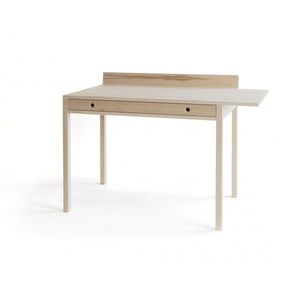 ash desk
NOVEMBER LIGHT by Louise Campbell
Height: 82, 73 cm
Length: 120 cm
Width: 63 cm
MATERIALS ash or maple SURFACE FINISH natural oil mixture

Height: 29 in
Length: 60 in - 78 in
Width: 30, 36 in
Matrix creates sophisticated, flexible work spaces that withstand the test of time. Offering robust electrical capabilities, this full frame and tile system allows power and data to run every 8" in height. Matrix can construct any configuration, ...
See the other products
AIS

Height: 29 in
Length: 78, 84, 66, 72 in
Width: 22 in
Divi can take your office to new heights for less. From open plan to private workspaces, Divi can bring your vision to life. Offering panels in permanent monolithic, segmented, glass and stack configurations, virtually any aesthetic can ...
See the other products
AIS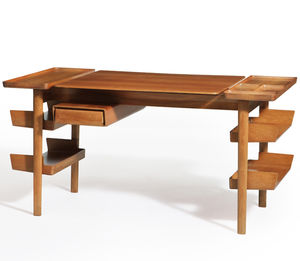 wooden desk
SCRITTOIO IN NOCE by Gianni Albricci

executive desk
NEL by Silvia Suardi & Sezgin Aksu
See the other products
Addo Furniture Yildiz Mobilya Dek.San.Tic.Ltd.Sti

executive desk
SLIM by Silvia Suardi & Sezgin Aksu
See the other products
Addo Furniture Yildiz Mobilya Dek.San.Tic.Ltd.Sti

oak desk
FILOU by Élise Fouin
Height: 85 cm
Length: 85 cm
Width: 27 cm
This wired desk FILOU is a real working station : to look up emails, charge phones or tablets, to pin up notes, having at the same time everydays essentials at hand. It is possible to work seated or standing. Not too ...

Height: 75 cm
Length: 120 cm
Width: 60 cm
A streamlined side facing a disorganised side, the EMPIL desk plays with contrasts. A combination of 4 cases that can be set as one wishes. It offers the features of a classic office. The top is equipped with a grip to ...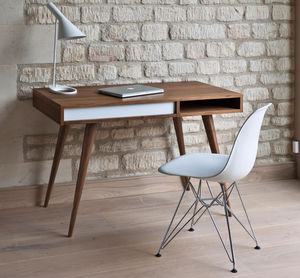 wooden desk
CELINE by Nazanin Kamali
Height: 75 cm
Length: 110 cm
Width: 55 cm
The Celine desk has gently tapering conical legs which gives this piece a very dainty aesthetic. Combined with its small proportions and slim hidden drawer this desk is perfect for those tight on space. According ...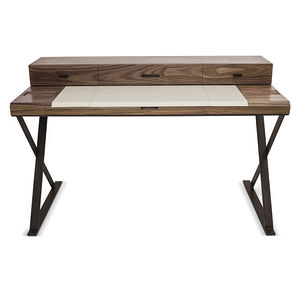 Height: 88 cm
Length: 140 cm
Width: 70 cm
The HEMINGWAY desk will make you want to work, study and, most likely, create. The detail in leather is just the necessary complement.

Desks have a wide range of finishing, with either straight or shaped top (which can even be customized upon the client's design), 30 mm or 60 mm thick. All desks can be easily personalized and therefore ...

|Charm and luxury for the home office: Nightfly collection proposes a practical and functional desk embellished by leather effect material, crocodile finish, upholstery of the opening top. Combined with Square chair.

Diamond home office: a practical and functional desk with opening top, embellished by leather effect material, crocodile finish, upholstery and leather accessories.

... clean and functional design, the versatile Metro Sofa Table makes it possible to check your emails in a luxurious way. This desk is made by hand from untreated rubber wood. The Metro Sofa Table comes in 3 different colours: ...

Height: 106 cm
Length: 81 cm
Width: 53 cm

Height: 100 cm
Length: 78 cm
Width: 48 cm

Height: 73 cm
Length: 130 cm
Width: 60 cm
... for objects in our living environment, Milo is equipped with storage spaces in which each detail has true significance. A desk with a strong character and a precise functional vocation. Desk. ...

Solid wood writing desk with wenge or canaletto walnut color finishing with dark brown lacquered top.

oak desk
JON by Studio Segers
Height: 76 cm
Length: 100, 160, 130 cm
Width: 60 cm
... rest of your interior. Tabletop: Oak Legs: Black powder coated steel Also available with 4 legs Feet height 67 cm / Height storage compartment 5 cm Available in different wood colours

executive desk
SPIDER : 56503109
Height: 75 cm
Length: 190 cm
Width: 190 cm
Executive desk with cabinet Non-standard forms of set "Spider" emphasize the creativity of their owner. The lines of furniture were designed to help decision-making. The combination of rich color of veneer American walnut ...
See the other products
ENRAN JSC

executive desk
GRACCE : 55012775
Set GRACCE creates wide possibilities for segmentation of office space. Item Id: 55012775 Category: CABINET Collection: GRACCE Dimensions: Material: Veneer
See the other products
ENRAN JSC

Height: 75 cm
Length: 104 cm
Width: 50 cm
Kolo series brings extraordinary style to your home. Series is designed to be aesthetically timeless, and each crafted detail brings a feeling of modern Northern neatness. Special looking handles in Kolo series add uniqueness to the wholeness ...

Height: 77 cm
Length: 100 cm
Width: 43 cm
... everyday chores. Writing table is a high-quality Finnish timeless style at its best. Spacious and wide drawer provide enough storage space for your personal items. Seniori series is an authentic and original Finnish design ...

... black and white designs. The unobtrusive, functional aesthetic of the xilobis table makes it perfectly suited as an elegant desk in your home office, a space gaining importance in our modern, digital professional world.

oak desk
LONSTRUP by Jonas Lyndby Jensen
Height: 650 mm
Length: 1,200 mm
Width: 720 mm
LONSTRUP is small work table with turned legs and a drawer. The curves in the table's details are inspired by the dune landscapes of the North Sea. An elevation of the worktop edging in one corner provides a frame that can be used as ...

Office Desks Features Durable Metal Frame Construction Electrostatic Powder Coating Pedestal Fixing Holes on Legs * Levelling Feet Drawer Blocks Combination * 25 mm Wooden Top 2 mm Edgebanding Easy Assembly Packaging: ...

Workbenches Features Durable Welded Metal Construction Electrostatic Powder Coating 40 mm Plywood Top Reinforced Bottom Shelf 1-2-3 Drawer Blocks Combinations Central Locking System 2.000 Differs Square Head Pedestal Lock with ...