The Online Architecture and Design Exhibition

classic display case
GIARDINO ITALIANO

contemporary display case
VEDUA
The wall-mounted VEDUA designer glass cabinet can be combined with different units to create entire living room solutions, providing a seamless transition between dining and living areas. The solid wood (natural oak or structured beech) ...

contemporary display case
TECA
Boasting lightness and transparency, TECA is a two-door showcase strongly characterised by its glass back. This "mobile showcase", with its sober and rigid lines, combines a wooden frame with a transparent glass cabinet and is available ...

contemporary display case
S40
Frame: Ash veneer, black and white lacquered, glass, lockable with key Dimensions (cm) Width: 80 Depth: 80 Height: 165

The Architectural Kitchen is one of our most celebrated designs and has been hugely popular since its debut. Recently we took the opportunity to revisit one of our original installations to demonstrate how our elegant design can seamlessly ...

contemporary display case
COLLECT by Rolf Heide and Peter Kräling
... wardrobe into a perfect wardrobe? The fact that it can do more than just neatly store your belongings. collect sets the stage to display your favourite things in an even better light – or to conceal them in an elegant ...

contemporary display case
GLOBUS
Double-sided display in engineered composite wood with melamine finish (7 stains available) or lacquer finish (37 colours available) or Alpi finish (5 stains available), 2 doors in extra clear glass on aluminium chassis ...
See the other products
ROCHE BOBOIS

contemporary display case
RIVERSIDE
Riverside epitomises the excellence and great versatility of Pregno and its ability to convey seductive atmospheres and moods. Pregno has chosen the metropolis as a stunning backdrop. Luxury interior design interprets the superb scenarios ...
See the other products
PREGNO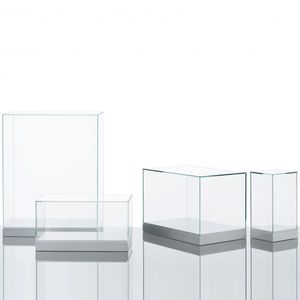 contemporary display case
TECHE
Series of display cases in transparent extralight glass mm. 6 thick, glued 45°. The base is in opaque white lacquered wood.
See the other products
GLAS ITALIA

traditional display case
ARCADIA by Armando & Elena Ferriani
A space to be shared and enjoyed together, an elegant and welcoming space perfect for entertaining your guests.

contemporary display case
METROPOLIS by R.D.A.
Metropolis is an extensive and diversified range of sideboards, cabinets, display cabinets and TV units devised to accommodate the most multifarious requirements. Featuring doors and drawers with assisted closing, some ...

contemporary display case
DOROTHEA by Giuseppe Bavuso
Rigorous, clean, essential lines are the most prominent stylistic features of this refined bookshelf made in stained oak with a practical drawer and interior shelves upholstered in hide, which will lend style and character to any setting. ...
See the other products
ALIVAR

contemporary display case
R3HV-WB, CR3HV-WB, R3HV-NB, CR3HV-NB
Features and Benefits Non-glare lift up glass (standard R3HV, optional for CR3HV) Heated air sweep (service) Adjustable legs LED shelf and canopy lights Black interior (self-service) Black interior (service) Snap-on, stainless steel ...
See the other products
Hussmann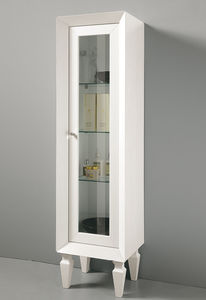 traditional display case
TURANDOT
Display cabinets wall-hung or feet, with door assisted soft closing system: Avalaible left or right opening. A distinctive 45° angle, provide a strong aesthetic impact and possess high technological value. COLOURS & ...

traditional display case
ERMES
Showcase in glass and curved wood, natural mother-of pearl handles. H. 225 / 89″ D. 58 / 23″ L. 144 / 57″

traditional display case
20-025
Length: 97.5 cm Height: 164 cm Width: 46.5 cm With 3 shelves. Also available with glass doors.

contemporary display case
SHIVA
Display cabinet with 1 door made of solid oak wood frame. The surfaces are treated with natural finishes to enhance the wood grain. Available mere oak wood, in white, ivory, dove grey, ginger, tobacco, ...
See the other products
LE FABLIER

traditional display case
E1036
One door cabinet in cherry wood with inlays. Finish as photo: Inlay C22 - Col. 22. Dimensions: H. 210 - W. 168 - D. 43
See the other products
ANNIBALE COLOMBO

contemporary display case
... come in various forms. Based on the design, we produce the desired display cases as needed. With variable-mounted or recessed shelf rails, stable shelves extend from walls. Individual cases ...

contemporary display case
LEONARD by Andrea Fogli
Cabinet with two glass doors, five wooden shelves and lock with key. Available in three different variants: mat or gloss lacquered, in the colours white, black, ivory or caffè Makassar ebony veneered, in mat, semi-gloss or gloss finish ...

traditional display case
MEDEA
A classic glass cabinet in a version with 2 doors and 3 drawers, or with 1 glass door and 1 wood door. The warm appeal of wood combines with elegant timeless style to create a style that is always contemporary, beyond all trends. Finishes ...

contemporary display case
NOW! VISION : 11731
EVERYTHING IS POSSIBLE, NOTHING IS A MUST. now! vision perfectly combines a clear line with with surprising flexibility. This system range for living rooms has many charmingly unconventional features: It allows you to create original ...
See the other products
NOW! By Hülsta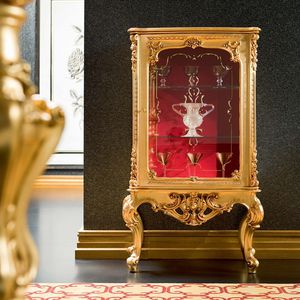 GLASS CABINETS art.508 1 door glass cabinet, engraved crystal, gold leaf finish cod.10 with decorated surface or marble top

contemporary display case
F301
... the display volume. Diffuser panel options include parabolic, eggcrate and Koolshade. Shelves and other display media can be hung from the lighthood extrusion, or held by vertical support-tubes when ...
See the other products
Glasbau Hahn GmbH

contemporary display case
BRAMANTE : IC.C.255.01
accents medium glossy black lacquered ref. Ral 9017 30% gloss LB glass clear glass VT mirror mirrored back panel MR recessed spotlight and lock polished brass OL wooden parts medium glossy american walnut 30% gloss WP medium glossy ...
See the other products
Interna Collection