The Online Architecture and Design Exhibition

Unique pieces of furniture and furnishing accessories decorated with traditional craftsmanship, each and every one brimming with character and historical authenticity. A simple piece of furniture becomes an item steeped in art and ...

traditional display case
UNIQUE
In the Redecò dining rooms, Made in Italy comes shining through with all its qualities – the exclusive Art Deco style beautifully interprets a classic yet contemporary taste.
See the other products
ReDeco

contemporary display case
SEAGRAM by Filipe Ventura
The purpose of this piece consisted in the exploration of relationships between the horizontal plane and the insertion of a strictly functional vertical block, reflecting on the context of a building in the city, addressing volume, texture, ...

classic display case
ART. 560
See the other products
Tarocco Vaccari Group srl

traditional display case
FAR HP VITCHI
This elegant vitrine is made with a solid recycled teak frame, glass windows and White Coconut mosaic lower doors with a brushed stainless steel Chinese door latch. Like all our furniture which is made by hand we can adapt this vitrine ...
See the other products
MATAHATI

contemporary display case
EMMA
Display cabinet with glass doors and recessed lighting. Excellent Swedish Design: Old tradition into modern design. First-class materials esteem and loving care in manufacture gives this cabinet stature and beauty. Full ...

Living room is a heart of every home. Our solid oak living room set will help you bring warmth to your home and decorate it in a rustic style. Material: Solid Oak Living room is the most used room in the home and should be decorated ...

contemporary display case
VISION
Glass-door cabinet with 3 doors and interior adjustable shelves. Vertical detail in lacquered glass, printed glass, veneered, ceramic or fenix. MDF structure with lacquered matt finish.

classic display case
ART. 2320/1A
Art. 2320/1A - Showcase (Lf-Rh) - cm 110x50x220h
See the other products
Arte Antiqua di Zen Adriano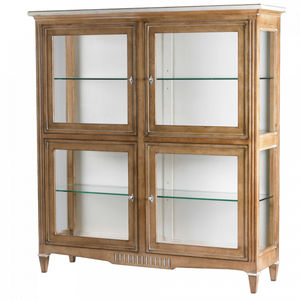 Directoire style display case
RECAMIER : 35015
Born in 1777, Madame de Recamier is a clever woman, known for the famous painting of Jacques Louis David in 1800. From the beginning of the Directory, the new form of government used by the first French Republic, she gathered the biggest ...
See the other products
LABARERE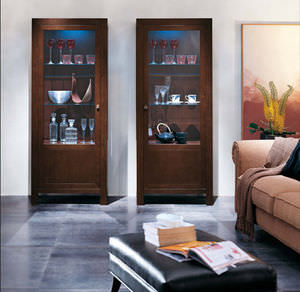 contemporary display case
JAMILA
Unique furniture since alive, unique furniture since personal. Bamax cannot image a home without you, without your way of life, without your love for the wood. Jamila is the expression of these ideas. A collection realized selecting the ...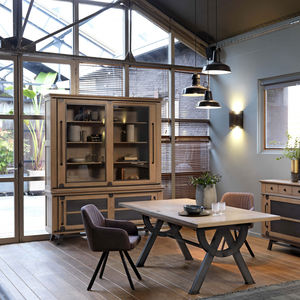 traditional display case
PASSERELLE
See the other products
Artcopi

contemporary display case
AK 2780 by Nissen & Gehl mdd
AK2780 is our new reinterpretation of the classic china cabinet. The combination of clear glass on the front and sides, the modern wood frame and the light steel base results in a floating and elegant appearance. There are five adjustable ...

contemporary display case
FALMER
A display case crafted from solid wood and tempered diamond safety glass shelves and panels. The interior features powder coated steel rails and brackets. The Falmer Vitrine is finished with a matt lacquer ...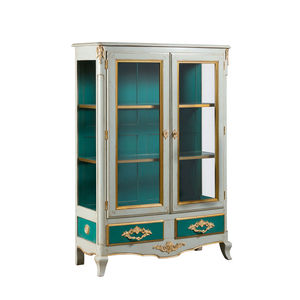 classic display case
ELYSEE : R268
Length: 1.15 m (45.3″) Height: 1.60 m (62.9″) Depth: 0.45 m (17.7″) 2 glass doors and 2 drawers

oak, ceramics, bronze, glass | 67 x 67 x 210 cm | 2008 A glass display case constructed with different materials and colors, as if it would be a patchwork; ceramics, glass, wood and bronze. All the ...

contemporary display case
PYRAMIDE

contemporary display case
1091

contemporary display case
PRECIOUS by CTRLZAK
Storage furniture in transparent extra-light crystal with mechanism and base in brushed brass. As a real safe, it protects the content revealing the essence. A symbolic up-to-date object where everyone is free to decide what is worth ...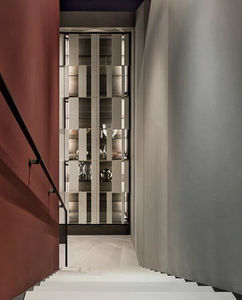 contemporary display case
HIDE
Finish base in T151 terra, doors in C154 laccato bianco caldo, open elements in C155 laccato marsala, interiors T151 terra, details in C48 bronzo chiaro, brass details, bronze glass doors and shelves.

contemporary display case
NIGHTFLY
Nightfly 1 door glass cupboard glossy piombo 78 lacquered. Available also matt lacquered.
See the other products
Rossetto Armobil

contemporary display case
VISTA
dimensions:124 x 210 x 48 cm quality:frame solid oak, , stained, lacquered, , brownish black , sides, top and doors made of glass , with 3 shelves, glass The cabinet Vista is the well-proportioned result of clear outlines and a silhouette ...

traditional display case
551
See the other products
flli zorzella mobili

original design display case
ORION K4003
Display case with body lacquered in black on outside, inside finished in gold leaf and lighting. Dimensions: 60 x 60 x 162 cm Body (Out): Resin reinforced with fiberglass lacquered in black with ...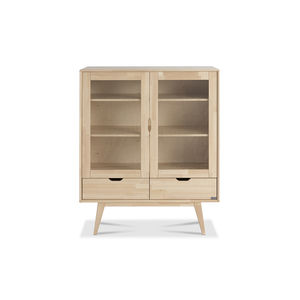 classic display case
KOLO
Kolo vitrine is a modern classic of the Finnish design at its best. Extraordinary vitrine becomes an eye-catcher of every space. Skillfully made finish makes the product an artwork piece to your home. Kolo series brings extraordinary ...
See the other products
Kiteen Huonekalutehdas Oy