How to choose this product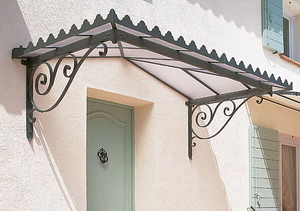 A door canopy is installed above the outside entrance to a structure to protect people entering or leaving the building or house from rain or sun.
Applications
These devices are found on all types of structures, including private homes, office buildings, stores, etc. They also can be used to protect windows, whose width is often similar to that of doors.
Technologies
Canopy frames are often made of wood or metal (aluminum, steel, wrought iron, etc.). When not of the same material, the cover may be of glass, polycarbonate, tile, fabric or another material.
How to choose
Choice will depend on doorway dimensions, intended canopy function and desired style. The canopy should be wide enough and long enough to provide sufficient protection against the rain. A transparent cover (glass, polycarbonate) will tend to concentrate the sun's heat. Shading the doorway will require use of an opaque cover of tile, wood, etc. A wrought iron framework lends a traditional touch, while an all-glass canopy offers a modern look.