How to choose this product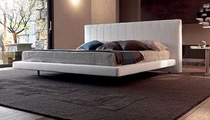 ArchiExpo offers double beds categorized in several ways. Styles include classic, traditional, modern and design. The bed can be made of wood, iron, concrete or another material. Configuration is another factor. There are round, captain's, canopy and waterbeds, some with casters, upholstered or other features.
Applications
The double bed constitutes a bedroom's central element.
Technologies
This piece of furniture comprises a frame, generally of wood or metal, which may also have a headboard and a footboard. A box spring or other support (slats, flexible blocks or discs) is placed on or is part of the frame. The mattress, whether spring, polyurethane foam or latex, rests atop this base. Frame width ranges from 140 to 160 centimeters, and length from 190 to 200 cm. Durability, color and style differ greatly.
How to choose
A larger bed offers more comfort for two. The mattress should be at least 15 cm longer than the taller person. In addition to personal taste, comfort and quality, a restful, healthful night's sleep should be the goal. Separate beds may be preferable if one of the people moves about while sleeping or if there is a large weight difference between the two.