Double glazing
How to choose this product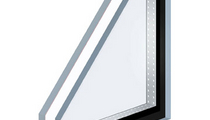 Double glazing consists of two panes of glass separated by a hermetically sealed layer of air or inert gas, such as argon or krypton. Since a single pane of glass conducts heat well, double glazing serves to reduce thermal transfer. The space between the panes must remain dry, since water also conducts heat well. Thus, a desiccant is incorporated into the spacers between the panes.

While pane thickness has little influence on heat conduction, it does affect the window's acoustic insulation properties. Some double-glazed windows use glass with a layer of metal oxides, which reflects solar and heating radiation, reducing its conductivity.
Applications
Double glazing is found in windows, entry doors and building facades.
143
companies |
675
architectural and design products
Filter by :
› New products

(8)

› Products with video

(33)
Extend the search
Search by manufacturer
Find a distributor
Search by catalog
Associated Terms
double glass panes