How to choose this product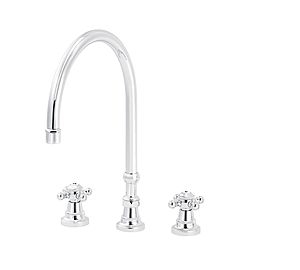 A double-handle mixer faucet has separate hot and cold water inlets and controls, but a single spout where water is mixed to the desired temperature.
Applications
These faucets are common in bathroom and kitchen sinks, and in showers. They allow particularly rapid filling of bathtubs.
Technologies
Such units are made of copper, zinc alloy, bronze and chromed brass. The handles can be integrated into or separate from the faucet body.
Advantages
- Variety of styles
Disadvantages
- Less-precise temperature control
- Elevated water consumption