How to choose this product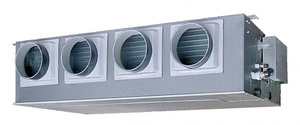 A duct air conditioner is a complete temperature control system for an entire structure. Ductwork and other interior elements are hidden above a false ceiling, greatly reducing ambient noise and avoiding the need for spatial reconfiguration. The ducts may also carry heat, the system providing year-round comfort and energy savings.
Applications
These systems are found in buildings requiring effective, economic air conditioning without altering architectural or spatial arrangements.
Technologies
Such installations consist of exterior and interior units linked to a system of ducts supplying the various rooms. Interior elements are installed above false ceilings. This results in better air distribution and significant noise reduction.
Advantages
- Aesthetic
- Efficacious
- Stable temperature
- Noise reduction
Disadvantages
- Expensive to install