How to choose this product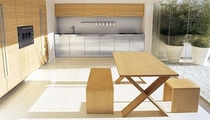 An eco-friendly kitchen consumes less energy and uses fewer non-renewable resources in its construction.
Technologies
These kitchens use materials made with neutral solvents rather than volatile organic compounds (VOC). They also incorporate wood certified by the Forest Stewardship Council (FSC) or the Program for the Endorsement of Forest Certification (PEFC). Recycled and recyclable materials are favored, as are water-based finishes. Other features include energy-efficient appliances, water-saving fixtures and light-emitting diode (LED) illumination.
Advantages
- Reduces environmental damage