How to choose this product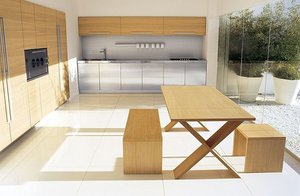 An eco-friendly kitchen is characterized by producing less environmental contamination. Increasing environmental awareness throughout society has made it possible for certain manufacturers to offer kitchens which consume less energy and fewer natural resources.
Applications
These kitchens are ideal for those interested in creating a healthful home while reducing the environmental impact of their resource use.
Technologies
Such kitchens use materials made with neutral solvents rather than volatile organic compounds (VOC). Recycled and recyclable materials are favored, as are water-based finishes. Other features include energy-efficient appliances, water-saving fixtures and light-emitting diode (LED) illumination.

They also incorporate wood certified by the Forest Stewardship Council (FSC) or the Program for the Endorsement of Forest Certification (PEFC). More information can be found on the Websites of these organizations.
How to choose
Choice will depend on available space and the number of people the kitchen must serve. Other factors include the type of hardware to be installed and the durability and maintenance requirements of constituent materials. Overall configuration, for example with or without an island, is also an important consideration.
Advantages
- Reduces environmental damage
- Diversity of models