How to choose this product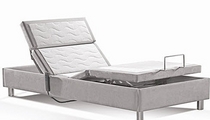 Electric, or adjustable bed frames have a remote control allowing the mattress position to be changed so that the user can lie flat, semi-recumbent, with elevated feet or sit up. They can be single or double beds.
Applications
These beds are ideal for individuals who spend a lot of time in bed, be it for reading, watching television or eating breakfast. The adjustment mechanism allows for a wide range of body positions and movements. Such beds are recommended for individuals seeking optimum comfort, for seniors and for individuals with limited mobility.
Technologies
There are slat and disc spring versions and those with a vibrating feature. They usually have two or four silent motors. On some models, the mattress support is enclosed and recessed into the frame, hiding the mechanism. Adjustments are easily made via remote control. More motors and a larger number of positions offer more adjustment precision.
How to choose
The number of motors is important, since it cannot be modified. The difference in price between two-motor and four-motor models is usually quite low. Consider the suspension system. Slats are usually equipped with firmness adjustments for optimum comfort. Disc springs are the most comfortable system of all.
Advantages
- Comfort
- Adaptability