How to choose this product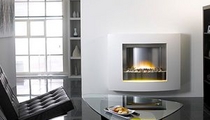 An electric fireplace is a type of decorative radiator with a mantel that resembles a wood-burning fireplace. It may be an independent unit or an insert for a preexisting firebox.
How to choose
These fireplaces are recommended where ease of installation, cleanliness and safety are predominant concerns. Choice also will depend on location and configuration (central, built-in, wall, corner, two- or three-sided), open or closed firebox and mantel style (contemporary or traditional), materials, color and texture.
Advantages
- Practical and clean
- Safe
Disadvantages
- High energy consumption
- Inefficient heating