How to choose this product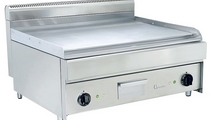 An electric griddle is a flat cooking surface on which food is cooked directly. It may be slanted or have a ribbed surface to facilitate fat runoff and to create grill marks on the food. There are countertop, freestanding and built-in models.
Applications
An electric griddle may be designed for residential, restaurant or fast-food settings. Freestanding versions may be built into a kitchen or include shelves, cupboards or drawers.
Technologies
While stainless steel and chrome are often used for the griddle body, the cooking surface is usually of tempered steel or nonstick materials.
How to choose
Ensure that the unit is big enough for intended cooking requirements without hindering movement in the room. Consider the volume of the food to be prepared and how fast it must be cooked. Decide whether a portable countertop version or a built-in model is more appropriate.

Materials should be robust, easily cleaned and comply with local regulations (e.g., tempered steel). Determine the relative suitability of smooth and ribbed surfaces, and whether it is important to drain excess fat. Verify how evenly the surface heats and whether it can be divided into different cooking areas with separate temperature controls.
Advantages
-Direct contact cooking
-Reduced heat loss and cooking time
-Easy to clean