How to choose this product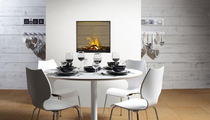 Electric stoves are a type of radiator. They resemble wood stoves and seem to generate flames, but avoid the inconvenience of wood-burning stove maintenance, flues, wood storage, gas production and odors. There are traditional, modern and design models.
Technologies
These devices use electrical energy and are often made of steel, iron, ceramic or other materials. They are easy to install, requiring no more than a connection to the power supply.
How to choose
Such stoves heat less efficiently than wood-burning models. They are suitable for rooms of less than 15 square meters. Styles include design and traditional. Some are configured for corner installation. Some have a cold flame option. There are also portable and remote-controlled models.
Advantages
- Easy to install
- Practical
Disadvantages
- Moderately efficient