How to choose this product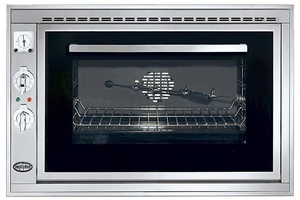 An electric oven usually has its metallic heating components at the bottom. A separate, broiler element at the top is used for direct grilling. Time, temperature and type of cooking can be set via dials or electronic controls. Convection models are fan-assisted to circulate the hot air within, providing fast, even cooking.
Applications
Such ovens may be built-in, freestanding or sit on a counter or other work surface. Some are designed for a specific commercial purpose, such as roasting meat or baking pizzas.
Technologies
The heating element is usually controlled by a thermostat. When the desired temperature is reached, it is turns the oven off. When it falls below the desired temperature, it is turned on again. The grill, or broiler element at the top may not be controlled by a thermostat, in which case it requires careful supervision.
How to choose
Choice will depend on commercial or private use, available space and ease of installation. Consider how easy the oven is to clean and how robust it is. Commercial models may require more frequent cleaning than domestic versions. The oven should suit its intended use and comply with local regulations.

Evaluate how often the oven will be used, the type and volume of food to be cooked and cooking speed. For the occasional home cook, a worktop oven may be a compact and economical choice. In contrast, a professional chef needs a fast, powerful oven to cook large quantities of food quickly and evenly.
Advantages
- Easy to use
- Easy to install
Disadvantages
- Electricity more expensive than gas