How to choose this product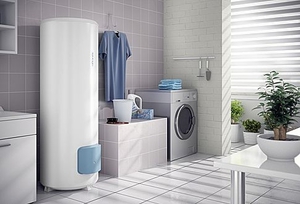 An electric hot water heater supplies hot water for taps, showers washing machines and other appliances in domestic, commercial and public settings. While standard models are tank-based immersion heaters, point-of-use on-demand heaters save energy by heating water only when needed. However, they may be more expensive and require use of more than one unit.

On ArchiExpo, these devices are arranged by properties such as type of water heater or type of installation.
Technologies
Immersion electric water heaters consist of two heating elements inside a tank. The lower element heats the cold water entering the system, while the upper one keeps the heated water at the desired temperature. A tankless model heats the water as it passes through a heating coil.
How to choose
Determine whether a tank-based or tankless system is more appropriate. System size and power will depend on the amount of hot water and the flow rate required. Consider how accurately the temperature can be controlled and how easily a constant shower temperature can be maintained. Other factors include energy efficiency, operating cost, ease of installation and required maintenance.